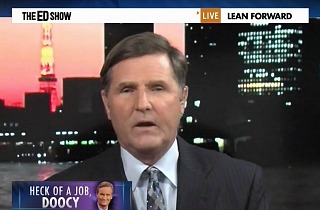 "Ring of Fire" radio host Mike Papantonio excoriated the political press when he joined MSNBC's Ed Schultz on Monday for their coverage of the Affordable Care Act's roll out. He said that the coverage of the ACA, like CBS's inaccurate Benghazi report, indicated to him that the media was executing a premeditated "hit job" on President Barack Obama.

Schultz began by asking Papantonio about the bipartisan impulse to compare the political impact of the ACA's roll-out to that of the botched federal response to Hurricane Katrina in 2005.
"Well, Obama saw a health care disaster and he ran in to fix it. The Republicans saw a Katrina disaster and they ran away from it," Papantonio responded. "I don't know why the media can't get that."
RELATED: MSNBC Hosts Cite MSNBC's Inaccurate Predictions of GOP Doom to Prove All's Well for Dems
"You can only conclude a couple of possibilities, Ed," he continued. "And that is a sense that the media's handling of everything is either a sense that they're woefully ignorant and uninformed or that they have a design to sell more commercials based on poorly analyzed attacks on this White House."
"This Fox News methodology of attacking this White House is not just Fox News," Papantonio added. He said that there were key difference between Katrina and the Iraq War and the failure of the ACA website to launch: lives lost.
"What about the idea of 9/11, where 3,000 Americans were murdered, because the Republican administration didn't have the discipline or the good sense to read a presidential briefing?" Papantonio asked.
He concluded but wondering whether or not the attacks on the president from the media are "designed."
"You look at the CBS report on Benghazi, where there was this fraud, clownish attack on Obama," Papantonio exclaimed. "CBS can apologize all they want, but it's very clear that it was all about an Obama hit job, and we're seeing more and more of that from the media."
Watch the clip below via MSNBC:
[Photo via screen grab ]
— —
> >Follow Noah Rothman (@NoahCRothman) on Twitter
Have a tip we should know? tips@mediaite.com