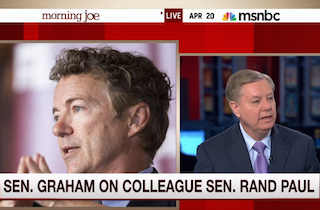 Sen. Lindsey Graham (R-SC), who has been threatening to enter the 2016 presidential race for at least the last six months, appeared on Morning Joe today, where he shared some particularly damning words about his colleague, declared candidate Sen. Rand Paul (R-KY): He's less "aggressive" than President Barack Obama.
"Generally speaking, he's been more wrong than right," Graham said of Paul's foreign policy positions. "He has a isolationist view of the world that I don't share."
Later, when Joe Scarborough pushed Graham to say whether his views on intervention hew closer to Paul's or Hillary Clinton's, the senator would not say at first. But he did offer this assessment of how Paul stacks up against Clinton and Obama:
Rand Paul is one step behind leading from behind. So yes, even Obama is more aggressive. Obama believes you can kill Anwar al-Awlaki, without getting a court order. Obama believes you can hold enemy combatants, unlawful enemy combatants at Gitmo, without a criminal trial because this is law-of-war detention. So Rand Paul is behind Obama, not just Hillary Clinton.
RELATED: Fox's Wallace to Lindsey Graham: Are You Too Moderate to Win GOP Nomination?
In the same interview, Graham revealed a bit of information on how he is making his decision to run for the Republican Party nomination or not. "I got to put the financing together," he said, adding that his goal would be to "exceed expectations in Iowa."
"Finish in the top tier in New Hampshire, win South Carolina," Graham continued. "And by then, I think three or four people are left. And I'd be one of those three or four."
Graham joked that if Carly Fiorina is 90% sure she is running for president then he is 91% sure. "I'm the leader," he said.
Watch video below, via MSNBC:
[Photo via screengrab]
— —
>> Follow Matt Wilstein (@TheMattWilstein) on Twitter
Have a tip we should know? tips@mediaite.com