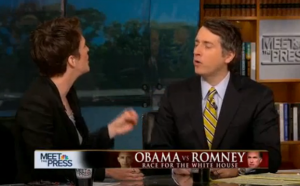 MSNBC host Rachel Maddow clashed with National Review editor Rich Lowry during a roundtable discussion about Paul Ryan's budget plan on Sunday's Meet the Press. While Maddow insisted that Mitt Romney's picking Ryan as his running mate is everything the Democrats could have hoped for, Lowry disagreed, commending the choice.
"Democrats think that this is the best thing that could possibly happen to their campaign," Maddow said, noting that the conversation is no longer just about whether voters like the way the country is going. "Now the choice is, 'Well you may not like Afghanistan or renewable energy or Solyndra or health insurance coverage for contraception or something, fine. Do you like Medicare?'" she continued. "Now it is a choice. It is no longer just a referendum on Obama and that's everything they wanted."
Lowry begged to differ, viewing the Ryan pick as one that shows "a real commitment to getting things done," and demonstrates Romney's eye for good talent. The segment then grew into a more heated debate as the two argued over Ryan's budget plan as it relates to Medicare and entitlements.
As Lowry noted that Ryan's plan would maintain President Barack Obama's cuts to Medicare while Romney wants to undo those cuts, Maddow interjected, "Wait, but that's amazing." She added, "We're going to have Romney vs. Ryan on Medicare. That's going to be awkward."
Lowry then directed specific Medicare questions at Maddow, to which she responded that she's "not running for anything." Nonetheless, Lowry repeated questioned, "Do you?" The circular questioning went on for quite a bit.
Take a look below, via NBC:

Have a tip we should know? tips@mediaite.com