Maddow: Don't Believe 'Fairy Tale' About Post-Midterm 'Kumbaya'; GOP and Fox Want to Impeach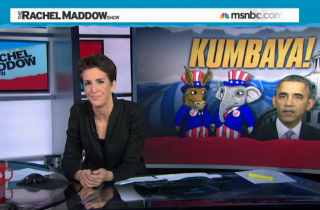 MSNBC's Rachel Maddow it's a "fairy tale" that the Republican Party will now focus on working with President Barack Obama after taking control of both houses of Congress in the 2014 midterm elections.
The prevalent post-midterm Beltway narrative holds that GOP congressional leaders Sen. Mitch McConnell and Rep. John Boehner will focus on governing rather than filibustering or stymieing legislative action.
Bunk, said Maddow in her Friday evening monologue. "You should have taken it as a hint when the Republican Party press conference the morning after the election was done in front of a giant red screen that said 'Stop Obama,'" she remarked.
She took aim at both conservative media and politicians for openly agitating against the president, despite their victories. "When Republicans talk to each other, which is what Fox News is for," she said, "what they're talking about this week is not freaking constructive policy-making, it's 'When do we impeach the president? When do we get to start?'"
Using clips of Fox News hosts discussing the possibility of the GOP impeaching Obama over executive orders on issues like immigration, along with Boehner and RNC chair Reince Priebus lambasting the possiblity of such actions, Maddow argued that while much is unclear following the midterms, it's far from "unsettled" that the GOP sees "the destruction of President Obama as their reason for living."
"The Beltway keeps telling themselves this fairy tale about Republicans and how Republicans must feel now," she concluded. "But listen to them actually talk to each other."
Watch below, via MSNBC:
[h/t Raw Story]
Have a tip we should know? tips@mediaite.com