Major Garrett: Politicians Are Creating An Economic Consequence, Not The Other Way Around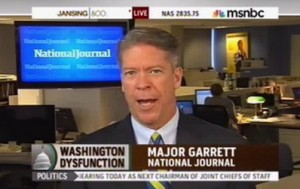 On MSNBC's Jansing & Co. Tuesday morning, National Journal's Major Garrett provided a wealth of smart, clear-eyed analysis of the current debt ceiling debate, noting a crucial word that was missing from President Obama's speech last night. He also made the observation that this crisis is an inversion of the typical political/economic equation, telling anchor Chris Jansing that "politicians are creating an economic consequence, not the other way around."

Garrett was on MSNBC to discuss this article from The National Journal, in which he notes that President Obama avoided threatening a veto in last night's address. Before I read it, I was convinced, like Lawrence O'Donnell, that the endgame here is a clean debt limit increase, but Major's analysis (especially considering his keen understanding of legislative machinery) leans persuasively toward a political compromise. He explained to Jansing that by not threatening a veto of the Boehner plan, the President was leaving himself political space to approve some kind of mix between the Boehner and Reid plans.
Garrett and Jansing also discussed the Howard Beale-esque surge of phone calls and Congressional website-crashing traffic in the wake of the President's speech, and Major made an observation that is likely at the heart of all of this mad-as-Hellness. "Typically, politicians feel they are sort of at the mercy of economic trendlines…But this is quite clearly a confrontation that is now causing economic harm, and we don't know the magnitude, ultimately, of that harm, but this is a rare instance where politicians are creating an economic consequence, not the other way around."
Much of the political wrangling around this issue centers around pinning the blame for the confrontation on House Republicans, but as Garrett also observed, many Americans simply want an end to it.
Here's the clip, from MSNBC's Jansing & Co.:
Update: Since this segment aired, the Obama administration has indicated that it would veto the Boehner plan: (via email from The White House)
The Administration strongly opposes House passage of the amendment in the nature of a substitute to S. 627. If S. 627 is presented to the President, the President's senior advisors would recommend that he veto this bill.
Have a tip we should know? tips@mediaite.com