Malkin Rails Against 'Smug' Liberals And Political Correctness In Tsaernaev Case On Hannity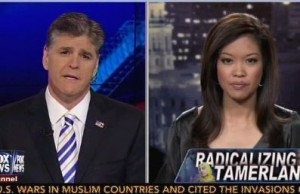 Sean Hannity tonight delved into the family environment the two Boston Marathon bombing suspects, Tamerlan and Dzhokar Tsaernaev, grew up in, and how they might be influenced by radical Islamic beliefs. He and Michelle Malkin raised questions about why U.S. intelligence didn't respond to concerns being flagged about the brothers, with Malkin calling "people in Washington" dismissing any connection between the Tsaernaev brothers and foreign jihadi groups as "too smug" for their own good.
RELATED: Joe Biden Calls Boston Bombing Suspects 'Two Twisted, Perverted, Cowardly Knock-Off Jihadists'
Hannity played audio of the suspects' mother saying that she doesn't care if she or her children are killed, "and I will say Allahu Akbar." Malkin was amazed at her lack of respect or care for her surviving son, but said that "tells you everything you need to know about" how the Tsaernaev brothers may have been radicalized. Hannity played clips of other family members expressing doubts about the official story, and highlighted how the brothers were very much opposed to the wars in Iraq and Afghanistan.
Malkin suspected more is still to come in studying Tamerlan's background, saying his YouTube page already illustrates he has an "intimate knowledge of clandestine leaders." She used this information to go after "people in Washington" for attempting to "dismiss… the idea" that the Tsaernaevs were connected to foreign jihadi groups, saying such a mindset is "too smug for its own good." Hannity asked how U.S. intelligence missed numerous warnings from Russia, and pointed out that Tamerlan attended Muslim centers where extreme radicals spoke.
Malkin blamed political correctness for no one cracking down on such centers, and highlighted how the president of a radical mosque attended by Tamerlan happened to have close ties to anti-tax advocate Grover Norquist, saying that conservatives would be up in arms if there was a liberal with such an association.
Watch the video below, courtesy of Fox News:
—–
Follow Josh Feldman on Twitter: @feldmaniac
Have a tip we should know? tips@mediaite.com
Josh Feldman - Senior Editor