Man Arrested For Threatening To 'Slit Throats' Of Nancy Grace, Jane Velez-Mitchell Over Jodi Arias Trial Coverage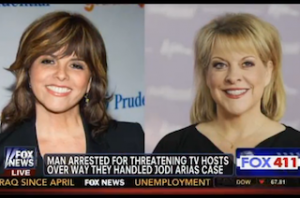 A Bath, New York man has found himself sitting in an Arizona jail cell for threats he made on Twitter towards HLN anchors Nancy Grace and Jane Velez-Mitchell over their coverage of the Jodi Arias trial. 48-year-old David Lee Simpson allegedly posted that he planned to tie Grace and Velez-Mitchell to a "tree naked and leave them to suffer all night," then "slit their throats." He also threatened to hang one of the anchors by her feet and "gut her like a deer."
Fox News' Julie Banderas reported the names of the two cable news hosts targeted by Simpson Thursday morning. "For journalists, viewers either like what we have to say or not, differing opinions come with the job," Banderes said. "But for two national TV anchors, their handling of a news story turned into death threats." Simpson was indicted by a grand jury in Phoenix on charges of stalking and computer tampering last week.
According to a statement from the Maricopa County, Arizona, sheriff's department, which conducted the investigation:
"Simpson quit his job last week as a front desk employee in an auto repair shop in Bath, allegedly telling his employers that he was leaving town. His car was subsequently stopped by local police as he was heading south. A vehicle search conducted on Simpson's car found that he was in possession of several guns, shotgun ammunition, hand-cuffs, zip-ties, binoculars, a knife and a police radio. Detectives also found a receipt to a recently purchased shotgun. The shotgun has not been located.

Also found in the car were newspaper clippings related to the Newtown, Connecticut school massacre, and the shootings of four firemen in Webster, New York who were responding to a fire call. Also found inside the vehicle was a printout from a local Arizona news website about the story of a woman arrested by Maricopa County Sheriff's deputies on charges of bestiality."
Simpson waived extradition and arrived in Phoenix Wednesday evening where he is currently in custody at Maricopa County Jail.
Watch video below, via Fox News:
—
>> Follow Matt Wilstein (@TheMattWilstein) on Twitter
Have a tip we should know? tips@mediaite.com