Man With Press Credentials Gives Middle Finger To Fox News Camera During Live Broadcast (UPDATED)
Man With Press Credentials Gives Middle Finger To Fox During Live Broadcast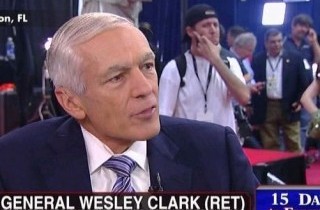 While Fox News' Shepard Smith interviewed Obama campaign surrogate General Wesley Clark in the press area of Lynn University's debate location, a man with press credentials decided to have a little fun and flip the bird at the hundreds of thousands of viewers at home.
As Smith and Clark got into a live conversation about tonight's debates, the bearded man walked up behind Clark's seat and pretended to scratch his facial hair in several directions, giving the middle finger as he did so.
He then walked away smiling, seemingly satisfied with himself.
No word, however, on who the mysterious white-tee-wearing, press-credentialed bird-flipping man is.
UPDATE: The bird-flipper has been identified as Jake Katel, videographer for the Miami New Times and New Times Broward-Palm Beach. The latter paper revealed their own employee to be the prankster in a brief article:
"It was a joke, it was funny," says Katel. "I walked in with a definite liberal bias. I wanted to use their airwaves against them."

Some who witnessed the middle finger weren't too amused. "Some guy in a blue shirt was all pissed at what I did and threatened to throw me out," Katel says.

Katel was eventually escorted out by Lynn University security guards, and the cops were called. Police took him into a security area and told him Secret Service would be paying him a visit.

"The Secret Service lady who talked to me said I could get banned from media events for life," Katel recalls. "'That's how big the stakes are here,' she told me."

The Secret Service did allow Katel back into the media room, although they warned him they'd be watching him.
Watch below, via Fox News:
— —
>> Follow Andrew Kirell (@AndrewKirell) on Twitter
Have a tip we should know? tips@mediaite.com