Mark Levin Sets His Anti-'Establishment GOP' Sights on Krauthammer and George Will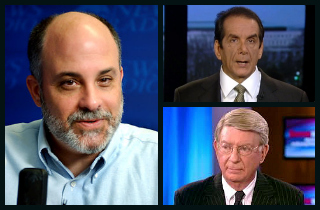 As part of his continued crusade against the "establishment" elements of the Republican Party, radio host Mark Levin went after Charles Krauthammer and George Will on Tuesday evening, dismissing their roles as two intellectual leaders of conservatism going forward.
Despite his great deal of "respect" for Washington Post columnist Krauthammer, Levin warned that "In the 1980's he was working for [Democratic politician] Walter Mondale!" As for well-known columnist Will, Levin noted that "in 1979 and '80, he said 'Reagan can't win'! First he backed Howard Baker and then he backed George H.W. Bush."
-RELATED: Mark Levin 'Trashes' Mediaite: 'I Did Not Attack Fox News'
The point being?
"These aren't the people who are going to provide the wisdom and judgment and foresight when we're in a battle like this," Levin explained. "They've not only surrendered, they've taken out the long knives and tried to destroy the handful of conservatives we have in Washington, D.C., who are trying to fight against all odds and lay a foundation, a predicate — if not for now, for the future, at some point — where we can begin to reverse this."
He continued, "They're trying to breathe some life back into the Republican Party, and they're being smeared by people who don't even remember what the Republican Party was once like," referencing both Will's and Krauthammer's criticism of Sen. Ted Cruz (R-TX) and the movement to defund Obamacare.
Listen below, via The Mark Levin Show:
[h/t
MofoPolitics
]
— —
>> Follow Andrew Kirell (@AndrewKirell) on Twitter
Have a tip we should know? tips@mediaite.com