Martin Bashir Slams 'Nonentity' Sarah Palin's 'Assclown' Remarks, Recommends Her For NRA Post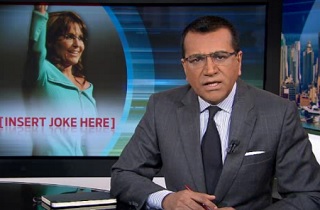 Former Alaska Governor and Nuclear Football Near-Miss Sarah Palin joined the predictable chorus of bitter White House Correspondents' Dinner non-invitees Saturday night by tweeting her ass-heavy misgivings about the event, inviting an even more predictable revelation of her own hypocrisy. On Monday's Martin Bashir show, host Martin Bashir pointed out that Palin had smeared her own kin with assclownery, but also added a bit of canny career advice for the fading pit bull.
In case you missed it, Governor Resignate Palin sent a charmingly profane tweet Saturday night, informing her followers that "That #WHCD was pathetic. The rest of America is out there working our asses off while these DC assclowns throw themselves a #nerdprom," even though her own husband, Todd Palin, and daughter Bristol Palin are, themselves, former "rectal comedians," as Bashir put it. Both have attended the dinner in the past, and Palin herself skipped the 2011 dinner, but hit the pre-and-post parties, which presumably makes her merely an assclown groupie.
Bashir dug into Palin with all the relish of a Nathan's Famous supply closet, noting that "These comments mark her miserable decline, from hopelessly mindless vice presidential candidate, to now a near-nonentity," possessed of "a smoldering bitterness that America, once again, proved too smart and too discerning to tolerate her meretricious bile."
He also compared Palin, unfavorably, to reality TV stars Snooki and The Situation, and placed her "alone among the discarded rubbish of the CPAC conference."
Bashir's symphony of vitriol wasn't all withering insults and reproach, though. Rather than curse the darkness that is Sarah Palin's last spasm of relevance, Bashir lit a candle, noting that WHCD emcee Conan O'Brien "may well have stumbled upon something she is perfectly qualified to do."
"Incidentally, you may not know this, but Wayne LaPierre is merely the executive vice president of the NRA," O'Brien said Saturday night. "Which begs the question, how freaking crazy do you have to be to be the actual president of the NRA?"
"Mrs. Palin," Martin concluded, "the NRA looks forward to receiving your application."
Martin was mainly using the suggestion in order to call Palin crazy, but a job at the NRA would actually be a win for her, and for the organization, which has been without a celebrity figurehead for far too long. Current NRA mouthpiece Wayne LaPierre does a fine job of reciting the association's talking points, but is just the tiniest bit too sharp to carry them off with conviction at all times. Palin has the authentic blinkered ignorance to really sell the most idiotic of their arguments.
One possible hiccup could be that, according to Field and Stream, Palin is about as adept with firearms as President Obama, but maybe she can get Joe Biden to give her some lessons.
Have a tip we should know? [email protected]