Matthews And Gun Rights Advocate Battle In Explosive Interview: 'We Don't Trust People Like You'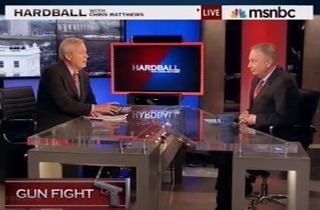 In an explosive, wide-ranging interview on MSNBC, Chris Matthews and the executive director of Gun Owners of America, Larry Pratt, battled over his organization's opposition to any new federal gun control legislation. "We don't trust people like you," Pratt exclaimed when pressed about his opposition to laws which he claimed could lead to a creation of a national gun registry.

RELATED: Matthews Links GOP's Resistance To Gun Control With Violence Committed By The Aryan Brotherhood
The interview became contentious almost immediately when Matthews interrupted Pratt and asked him to explain how a gun store owner not selling a gun to a potentially dangerous person could not be a welcome development.
"Would you sell a gun to these people?" Mathews pressed.
Of course not," Pratt replied. The pair talked over each other attempting to clarify both question and answer.
Pratt cited the American Civil Liberties Union which has expressed concerns about the creation of a national gun registry. Matthews pivoted to background checks. Pratt said that he and his organization object to background checks entirely.
"So, you're response to Newtown is to get rid of what we have now," Matthews noted. He asked if Pratt would want to get rid of speed limits because not everyone will obey them.
"We think the country would be better off without any background check," Pratt replied.
"There's something really ideological about this, because it doesn't make any sense to me," Matthews later said.
Pratt insisted that criminals who want to get guns will get them regardless of federal regulation. "You would say 'don't have any squad cars, any police, because you can't stop all crime,'" Matthews asserted. "How – what kind of argument is that?"
"You don't have a good argument," Matthews pressed.
"What you want is control," Pratt said.
"I'm a pretty libertarian guy on things," Matthews replied.
"We don't trust people like you," Pratt countered.
Watch the segment below via MSNBC:
> >Follow Noah Rothman (@NoahCRothman) on Twitter
Have a tip we should know? tips@mediaite.com