Matthews Swings at Rivals: 'How Is Being a Fox Commentator Different Than Being an Altar Boy?'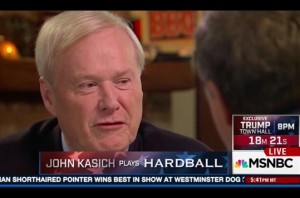 Before the bottom-right-countdown clock-worthy MSNBC Town Hall Wednesday night featuring the Morning Joe team and GOP frontrunner Donald Trump, Chris Matthews aired his interview with Ohio Governor John Kasich. Kasich, who finished in second place in New Hampshire and is hoping for repeat success Saturday in South Carolina, spoke to the Hardball host about his faith and years of being an altar boy in the Catholic Church.
Matthews took the information and offered a pivot of sorts onto another job Kasich held for several years: that of a Fox News personality (Kasich hosted Heartland on Saturdays for the network prior to holding office in Ohio).
The Hardball host used the opportunity to offer a quick jab at Fox News and the relationships of the commentators to Roger Ailes, who was eventually invoked by name in the exchange:
You were a commentator in the Church as an altar boy, you escalated to a higher level there of greatness. But then you became a commentator for Fox for about six or seven years. How was being a Fox commentator different than being an altar boy?
Matthews immediately broke into laughter at the sound of his own joke, but in fairness, so did Kasich. The Republican candidate told a brief story about his time interacting with Ailes — who Matthews clarified to his audience "runs Fox" as if anyone doesn't know — and Matthews begged, "[Ailes] never told you to walk a line?". (For you non-selfloathers Catholics, the role of the altar boy is to serve and assist the priest, who in Matthews' comedic analogy is Ailes).
Eventually Matthews admitted, "I like Roger."
Watch the above video from MSNBC.
[image via screengrab]
—
J.D. Durkin is the Senior Editor of Mediaite.
Have a tip we should know? tips@mediaite.com