Hillary: No 'Overt' Resistance to Female President, But Some 'Not as Comfortable'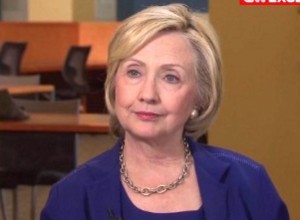 Hillary Clinton gave an interview to Vogue in which she talked about the resistance in some corners to the idea of a female president.
She said that there is hidden sexism––not "overt"––to blame for part of this, explaining, "You know, you get little hints that maybe they're not as comfortable with a woman being in an executive position. Especially in a big, rough-and-tumble setting like New York City or the United States of America. But I think it's changing."
She's confident there's been a "big improvement" and talks about how much better a candidate she is now than she is last time.
Madeleine Albright also spoke in the profile about the resistance from female voters to her campaign, saying, "People are a little nervous about being part of something historic."
And that's when Albright said this:
"People have asked me, 'Why isn't every woman in the United States for her?' And I'm going to use my own experiences here. . . . Women are very judgmental about one another. I worked for Geraldine Ferraro when she was the vice-presidential candidate. And we were somewhere in the Middle West and this woman came up to me and she said, 'Well. . . . How can she talk to a Russian? I can't talk to a Russian.' Nobody was asking this woman to talk to a Russian. Nobody is asking Mary Green in wherever to be president of the United States. Not every woman can be president of the United States, just the way that not every man can be president of the United States. But there is a certain kind of thinking: 'Well, I can't do it. How can she?' " Long pause. "It's not easy to be a first." This is a big first, I say. "Yeah, it is. And it will be great. Because I think she will be president."
Mediaite's own Alex Griswold wrote earlier today about how despite her campaign's protestations, Clinton has repeatedly made her gender a big selling point of her candidacy.
You can read Clinton's full Vogue interview here.
Correction: the blockquote above was incorrectly attributed to Clinton, when it was in fact from Albright. The headline of this post has been changed to reflect that.
[image via Shutterstock]
— —
Follow Josh Feldman on Twitter: @feldmaniac
Have a tip we should know? tips@mediaite.com
Josh Feldman - Senior Editor