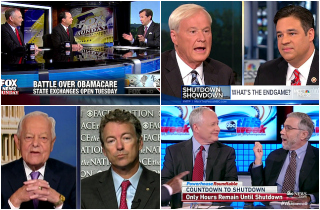 If anticipation is sweeter than the actual event, then the Sunday show lead-up to Tuesday's government shutdown was as sweet as can be, short of Lane Kiffin's enjoyable anticipation of being fired. Apparently in our world, simply seeing something coming from weeks away is not enough to prevent it. So if you spent your Sunday stuffing government bonds into your walls, here's what got yelled about on the teevee, from your ever-humble Mediaite scribe.

What'd I Miss?
GOP legislators had a tough task in defending their second go at a continuing resolution that effs with ObamaCare, as it has a zero percent chance of ever becoming law and thus all but guarantees a government shutdown that will likely be blamed upon the Republicans. Face the Nation host Bob Schieffer asked Senator Rand Paul (R-Drone Filibuster) if they were trying to Barry Goldwater themselves, or what? Paul pretended he didn't hear the question, but his answer—suggesting a conference committee to hammer out the differences—showed the exact shade of paint the GOP has used up to this corner. "That's how it's worked historically, Bob," he said to Schieffer, who didn't look like he appreciated a lecture on congressional process from Senator 2010.
Watch the segment here, via CBS News:
Dick Durbin (D-You're Freaking Kidding Me) promptly reminded God and everybody that the Senate Republicans—not, mind you, the normal sticks-in-the-mud in the House—had been blocking a committee on the budget for six months, and it was a little late to suddenly be all "Come Together" thirty-six hours before the escalators in D.C. stop moving. (#nailedit.) "You see what we're working with here," Durbin said.
Meanwhile, David Gregory did everything but draw Senator Ted Cruz (R-Texans Get What They Vote For) a diagram of how the loose ends of his strategy wove a noose. Cruz had apparently eaten a Harry Reid burrito before going on air, because all he did was burp the name for twenty minutes straight. It got so bad that Gregory actually justified the verb "grilled," a rarity. "I asked you a specific question," Gregory grilled. "Harry Reid," Cruz burped. We shut down on Tuesday.
What Didn't I Miss?
George Will blaming the shutdown on single moms. Everybody gets a bye week sooner or later.
Did George Stephanopoulos Exemplify Why Everybody Hates Sunday Shows?
He sure did! Fox News Sunday's Chris Wallace showed us how it was done, refusing to let either Senator Mike Lee (R-LOOK AT MEEEEE!) or Senator Tim Kaine (D-I Just Work Here) retreat to talking points when he wanted to hear specific arguments about the pros and cons of the Affordable Care Act. "It's like herding cats today," Wallace said. The effort paid off: Kaine had substantive answers to Wallace's questions about premiums, the ability to keep your doctor, and so forth. As underrated pundit Homer Simpson once put it, "That's interesting."
A similar scenario emerged over at ABC when Paul Krugman began to walk Li'l Bill Kristol through some of the actual specificities of the bill, only to be stopped by Stephanopoulos, who pivoted to Matthew Dowd and asked about the politics of the maneuver, ending a policy discussion before it had begun. That's a bad George Stephanopoulos.
Lamest Spin Award:
Raul Labrador: "If you looked last night at Twitter, there was not a single Republican on Twitter that said let's shut down the government."
Leaving aside this persistent (and persistently strange) notion that Republicans are innocent of any sinister intent not explicitly stated, Twitter is still not yet the index of truth in our times, and I'm saying that as someone who subtweets in his sleep.
Smackdown of the Day:
Krugman basically patted Kristol's head and called him slow. Nobody can make the word "policy" an insult quite like the Krugs.
Best Embodiment of An Internet Comments Section Award:
Interrupty-pants Ben Ferguson—who couldn't let a single person finish talking during his segment cuz he had YELL TRUTH TO WATER CARRIERS—loudly rebutted Ruth Marcus' claim that a "small faction" of House Republicans were driving the shutdown strategy. "IT'S NOT SMALL!" he truthed. Indeed.
[Image via screengrab]
——
>> Follow Evan McMurry (@evanmcmurry) on Twitter
Have a tip we should know? tips@mediaite.com