Megyn Kelly Asks 'You Lie!' Joe Wilson About Obama Camp Calling Romney A Liar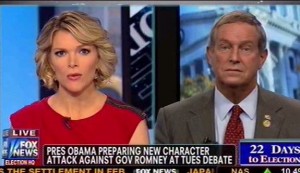 Rep. Joe Wilson (R-SC) famously yelled "you lie" at President Barack Obama during his 2010 State of the Union address and continues to be linked to that breach of accepted decorum. On Monday, Fox News Channel's Megyn Kelly asked Wilson for his thoughts on the Obama campaign's labeling of both GOP presidential and vice presidential nominees Mitt Romney and Paul Ryan liars over claims they made in their respective debates.

Kelly played clips of various Obama campaign spokespeople accusing the Republican ticket of being untruthful during the debates. Kelly than asked Wilson if he thought the Obama campaign was applying a "double standard" to Romney than they demanded of him after his outburst during the State of the Union.
"Absolutely," Wilson said. He went on to say that the "liar" charge materialized days after the first debate and it was part of a concerted communications campaign by Obama staffers to change the narrative that the president had lost the first debate to a more prepared Mitt Romney.
Kelly noted that Wilson had yelled "liar" at Obama while on the floor of the United States House of Representatives. "Do they have a defense tot his liar, liar, liar theme because they are not doing this on the floor of the U.S. House," Kelly asked.
Wilson said that his outburst was inappropriate, but he believed that his "spontaneous" outburst merits a different level of scrutiny than the Obama campaign's premeditated charge that Romney lied repeatedly during the first debate.
Finally, Kelly asked if there was a backlash coming for Obama's attacks on Romney just as he faced over his interrupting Obama in the State of the Union. Wilson said that he apologized for those remarks, again saying that his was spontaneous while the Obama campaign's is contrived.
Watch the clip below via Fox News Channel:
> >Follow Noah Rothman (@Noah_C_Rothman) on Twitter
Have a tip we should know? tips@mediaite.com