Megyn Kelly Guests Clash Over Whether NRA 'Willfully Lied' To Kill Senate Gun Control Bill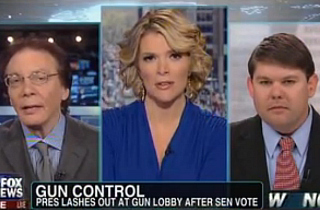 On Thursday afternoon, Megyn Kelly's political panel weighed in on the failure of the Senate gun control bill, which saw the scrapping of its "assault weapons" ban and background checks provisions on Wednesday afternoon. President Obama lamented the bill's defeat as a "shameful day in Washington." Fox liberal commentator Alan Colmes and conservative radio host Ben Ferguson battled over whether that is correct.
"I think the American people lost," Colmes told Kelly. "The president knew it would be a loss coming. Here is a case of the president standing up for what he believes is the right thing to do. Even knowing, going in before yesterday, they didn't have the votes. Sometimes you have to stand up for what's right even if you know the votes aren't there." He criticized the "cowardly" Republicans and Democrats who voted "wrong" on the gun bill "because they are too worried about their political future."
Kelly brought up the president's accusations that the National Rifle Association "willfully lied" about the background check provisions of the bill so as to make people believe there would "some sort of 'big brother' gun registry," and asked Ferguson to defend the gun lobby.
"I think the president has been obsessed with with the NRA the entire debate here," the conservative radio host began before Kelly cut him off — "Let me just stop you," she said. "Can you speak to that specific charge the president saying that the NRA and its allies 'willfully lied' by claiming that background check system and this bill would create some sort of 'big brother' gun registry?"
Ferguson denied any charges that the lobbying organization lied, asserting that the NRA used quotes from actual sitting politicians who "openly said we should have high taxes and we should have a register of guns." He then repeated pro-gun advocates' belief that the measures proposed in the failed Senate bill would not have actually prevented a mass shooting like the ones in Newtown, Conn., and Aurora, Colo.
Colmes fired back that the NRA did, indeed, suggest the bill would lead to a registration program. "[The NRA] did robo-calls to the families of Newtown and talked about how they would be disarming the American people. That's also a lie. It's not disarming."
Watch the full segment below, via Fox:
— —
>> Follow Andrew Kirell (@AndrewKirell) on Twitter
Have a tip we should know? tips@mediaite.com