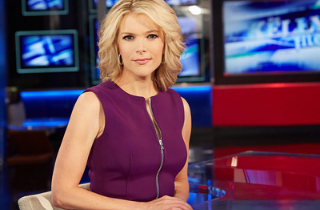 Fox News' Megyn Kelly was named one of TIME Magazine's 100 most influential people Thursday, making her the only female member of the media to be featured on the list. Her colleague Brit Hume penned the short article that accompanies her place on the list, saying it was his insistence that caused Fox News president Roger Ailes to hire her and ultimately give her a prime time show on the network.
Hume describes the moment ten years ago when his wife, who was then Fox's Washington bureau chief, brought him an actual videocassette tape of a local TV reporter known at the time as Megyn Kendall.
"She was a lawyer and new to the business," Hume writes, "but her tape displayed as full a set of the qualities of a network correspondent as I had ever seen: great looks, strong voice, authoritative yet cheerful presence and obvious intelligence. In other words, limitless potential."
He goes on to explain how, despite the fact that there were no openings for Kelly at Fox at the time, he urged Ailes to look at it. After that, an opening was created and the rest is Fox News history.
Salon lamented that Kelly was the only woman on the list whose "looks" are listed as part of what makes her so influential. The descriptions of Serena Williams, Kerry Washington, Amy Adams and others include no mention of physical appearance. But that hasn't bothered Kelly, who called into Fox & Friends Thursday morning to give her overwhelmingly positive reaction to the TIME piece.
"I love that Brit," she said of his efforts to get her on the network. "I have to say, it was a major cut in pay from my law job," she admitted, "but it wasn't about pay at that point. It was about trying to find happiness and professional fulfillment and thankfully I have."
If there's anything she's disappointed about here, it's that she didn't get to be on the cover like Beyoncé.
Watch video below, via Fox News:
[photo via screengrab]
— —
>> Follow Matt Wilstein (@TheMattWilstein) on Twitter
Have a tip we should know? tips@mediaite.com