Megyn Kelly Panel Clashes Over The Reasons For Rep. Ellison's 'Obnoxious' Fight With Sean Hannity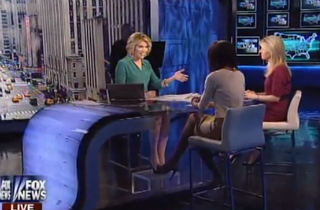 Today's America Live political panel took on the explosive Sean Hannity/Rep. Keith Ellison (D-MN) debate from last night. Conservative radio host Monica Crowley and host Megyn Kelly blasted the congressman's behavior, while liberal analyst Tara Dowdell explained that his "rant" came out of "frustration" with GOP treatment of the president.
"Congressman Ellison is a demagogue and bully, and last night with Sean he was particularly rude and obnoxious," Crowley tore into the congressman. "In addition to being a demagogue and a bully, he's a committed and militant leftist. So when he goes up against somebody who challenges his leftist views and his leftist agenda — i.e., out of control government spending, i.e., 6 trillion dollars in debt just over the last four year — he goes right for the jugular and he attacks with emotion and he attacks with demagoguery and this is how he behaves."
During last night's Hannity segment, Ellison accused Hannity of being "immoral" and a "liar" for saying that the president had originally come up with the budget sequestration set to take effect on March 1. On her show this afternoon, host Kelly asked why this was even a question, as White House Press Secretary Jay Carney has readily admitted Obama and his team came up with the idea.
Democratic consultant Dowdell argued that Ellison was taking issue with Hannity claiming the sequestration was "solely" on the president's shoulders. "Not what he said," Kelly brushed back, but Dowdell persisted that the Republican House bares a great deal of responsibility for the impending "cuts."
Kelly conceded that Republicans have "plenty of blame" but she expressed concern that a "U.S. congressman goes on Hannity's show, a national broadcast, and tells the American people that [the president] has no responsibility. That is false."
Dowdell shot back that perhaps Ellison was expressing "frustration" with how "the GOP has been extraordinarily unfair to President Obama" in their rejections of various "grand bargains" and "compromises" he has proposed. However, Kelly noted that the Republicans are also upset with the way he treats them.
Acknowledging the clear partisan divide on this issue, Kelly instead asked her panel whether Ellison's behavior is of the sort that automatically leads people to harbor negative feelings towards politicians. She mimicked the congressman for his "I'm rubber, your glue" responses to Hannity's questions, and asked whether that attitude contributes towards Congress' record-low approval ratings.
Crowley agreed that Ellison's actions reinforce the negative images of Washington politicians. Kelly continued on to slam "obstinate" politicians like Ellison and likely Republican equivalents who are incapable of negotiating with their opposition without leveling personal attacks.
When Dowdell began rattling off statistics about job losses resulting from potential sequester, Kelly interrupted, asking her to stop with the "talking points" and address her question of whether this reflects poorly on politicians.
"I don't speak for him," Dowdell explained. "He was disgusted because he's voicing the concern of many Democrats, many Democrats feel that President Obama has been subjected to a level of disrespect and obstructionism that has been unseen."
Watch below, via Fox:
— —
>> Follow Andrew Kirell (@AndrewKirell) on Twitter
Have a tip we should know? tips@mediaite.com