Megyn Kelly Takes On Anna Wintour Ambassadorship Rumors, By Playing Multiple Clips From Devil Wears Prada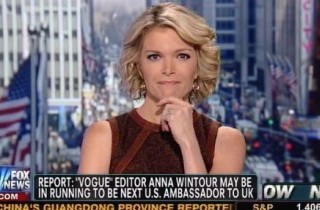 As we mentioned earlier today, the Obama administration is rumored to be considering Vogue editor Anna Wintour as the next U.S. ambassador to the United Kingdom or France.
As you may recall, Wintour became the subject of derision during the election campaign because of a snooty video she released in support of a fancy fundraiser dinner for Obama's re-election campaign. Conservative commentators went apoplectic, relentlessly mocking the magazine editor for her cluelessness, out-of-touch-ness, and general liberal-ness.
This afternoon, Fox's hard-news host Megyn Kelly introduced a segment that tore into Wintour's un-ambassador-like credentials and reputation by… playing a scene from a fictional Hollywood movie based on a fictional novel that may have been inspired by Wintour, among others in the notoriously cutthroat fashion world.
Yes, that's right. A segment about Anna Wintour (a real-life person of whom b-roll video exists… and if not, there's a real-life documentary called The September Issue) is largely based upon video footage from… The Devil Wears Prada.
"Yeah, because when you think Anna Wintour of Vogue, the woman portrayed by Meryl Streep in The Devil Wears Prada, you think… diplomat," Kelly mockingly began the segment after showing footage of not-Wintour in a movie.
It only gets worse.
Kelly brought on Fox Business host Stuart Varney — presumably for no other reason besides the fact that he is British — to concern-troll over this outrageous news that a wealthy campaign donor has been considered for a diplomatic post.
"The movie portrayed her diplomatic skills quite well. Why wouldn't you choose her?" Kelly asked Varney, seemingly unaware, again, that Streep's character is not — repeat not — a biographical depiction of Wintour.
The two then went back and forth about how Wintour is "notoriously difficult to work with," which could impede her ability to be a diplomat. But, nevertheless, Kelly notes, "all the presidents do this. If you raise a lot of money for me, and I'm president, you're going to be an ambassador. That's half the reason people do it."
Right! Absolutely. It's one of those ugly symptoms of the modern presidency. Campaign season becomes a nice little way to curry favor with other powerful people who want more power within your administration. It's truly old news, spanning presidencies back. So… segment over?
Nope.
Conservative commentator Varney used the opportunity for some requisite Obama-bashing, noting that of the 59 ambassadors the president has appointed, 40 lack serious experience. (Again, nothing new for the modern presidency.) And then when Varney joked about Wintour's qualifications that she is British-born, Kelly added that Wintour's "frankness" could come in handy.
Her proof? ANOTHER CLIP FROM THE FICTIONAL MOVIE BASED ON A FICTION NOVEL LOOSELY BASED ON ANNA WINTOUR AND OTHER FASHION ICONS.
Come on, Megyn.
Varney then continued on with the concern-trolling, asking what would happen if we were to nominate a fashion magazine editor to the Chinese ambassadorship, and how her only qualifications are being a "rabid leftist," a big Obama bundler, and "a monster in the office," yadda yadda yadda.
Until finally, Kelly noted that Wintour "doesn't want the job," and is "very happy with her job."
So… next time Sarah Palin comes up in the news, can we expect Megyn Kelly to use clips from HBO's Game Change to discuss her political credentials?
Watch below, via Fox News:

— —
>>
Follow Andrew Kirell (@AndrewKirell) on Twitter
Have a tip we should know? tips@mediaite.com