Megyn Kelly: 'What The Hell Was Stephen Colbert Doing Before The U.S. Congress?'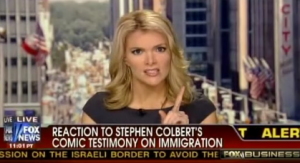 Yesterday we described Megyn Kelly as being "indignant" over Stephen Colbert appearing before House Judiciary Committee's Subcommittee on Immigration, Citizenship, Refugees, Border Security, and International Law. Now that it's actually happened, we're going to bump that up to "a notch shy of furious." After showing clips from the hearing and ceding that Colbert is a great comedian, Kelly devoted a segment to asking the question whether this was a colossal waste of taxpayer money.
Kelly invited on Rep. Steve King from Iowa who had let his displeasure with the situation be known during the actual hearing when he got into a semantics argument over the direction of Colbert's corn packing. King argued that Colbert and Rep. Zoe Lofgren didn't just insult the American legal system, but American workers as well by implying that they couldn't work hard (allegations that Colbert strove to avoid, even in character, when they were brought up during the hearing).
At the side of the screen, numbers were shown as to the costs of a subcommittee hearing as well as other celebrities who have testified before Congress. There was no mention to perhaps the most relevant case where another fictional character testified. Yes, I say fictional because, unfortunately Elmo isn't real. Really lucky sometimes, but not real.
So, is all of Kelly and King's anger warranted? Was this a waste and an insult? While Colbert's testimony turned sincere and informative towards the end, most of it was silly parody. Still though, it's pretty clear that more people are thinking about the plight of migrant workers today than they were yesterday. The only thing that's guaranteed, however, is that footage of this hearing is going to go next to footage of the 2006 White House Correspondents' Association Dinner in the pretty damn amazing career highlight reel Colbert's going to have one day.
Have a tip we should know? tips@mediaite.com