Melissa Harris-Perry Responds to Megyn Kelly's Santa Remarks: 'No Wonder' U.S. Has a 'Racial Divide'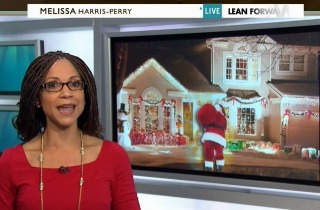 MSNBC host Melissa Harris-Perry took the opportunity of her program on Saturday to address comments made by Fox News Channel host Megyn Kelly about the racial complexion of Santa Claus. In an open letter to Santa, Harris-Perry said that it is an indication of how broad America's race and class divide is that some cannot envision a benevolent, mythical figure being of another ethnicity.

"I know it's a busy time of year, but we need to settle a little debate that's emerged in American media asking, 'Are you white? Are you black? When you come in from the North Pole, do you have a legal visa or are you undocumented?'" Harris-Perry asked.
RELATED: Megyn Kelly Addresses White Santa Remarks, Slams Critics' 'Knee-Jerk Instinct' to 'Race-Bait'
"Can you find a kid if he lives in an apartment building not a house without a chimney? Can you find her in a homeless shelter?" She continued. "Why do you leave so many more trees under the big trees in the wealthy neighborhood and so few under the trees in the poor communities?"
The MSNBC host said that, in her mixed race family, it was important to share with children depictions of figures they can aspire to emulate which remind them of themselves.
"If we cannot imagine you as racially different from ourselves, it's because our minds are stunted by a history that still can't fathom benevolence, and kindness, and intimacy in the bodies of those who are not like us," Harris-Perry asserted. "If we still doubt that you can embody every possibility of racial being, it is because we do not yet believe that every racial body is capable of making our sugar plum dreams come true."
"If we can't imagine Santa across the racial divide, no wonder we have trouble creating an america without a racial divide," she concluded.
Watch the clip below via MSNBC:
Visit NBCNews.com for breaking news, world news, and news about the economy
[Photo via screen grab ]
— —
> >Follow Noah Rothman (@NoahCRothman) on Twitter
Have a tip we should know? tips@mediaite.com