Michael Moore And Jack Abramoff, United At Last On Lawrence O'Donnell's MSNBC Set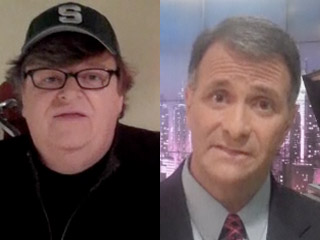 Former lobbyist/corporate corruption poster boy who takes his sartorial cues from Spy vs. Spy Jack Abramoff hit the ground running with a new book straight out of prison, and if his foray to MSNBC is any indication, the left is willing to forgive and forget all that criminal stuff that got him in trouble. Take, for instance, filmmaker/limousine liberal poster boy (who doesn't really have any funny sartorial choices, sorry) Michael Moore, who lauded Abramoff for "coming clean" and declared there was "no more powerful person" to fight corruption than him.
As the two both had interviews on The Last Word, this interaction between the face of corporate corruption and one of the most prominent faces of anti-capitalism in America came face-to-face thanks to the magic of Lawrence O'Donnell, and both parties had nothing but positive things to report. Moore appeared thrilled to see a story of redemption such as Abramoff's, explaining that the crimes going on behind the scenes are best understood by those committing them, and that someone so deeply involved in creating the problem is now working to fight it by exposing the infection is wonderful news. "He is 100% revealing everything and encouraging the American people to stop people like him," Moore argued, "that's a very powerful thing to do."
RELATED: Michael Moore Grabs 'Punk' Reporter, Growls 'You Lie!' Over Wealth Questions
Moore explained that the interaction was short and consisted in a handshake and Moore leaning in and saying "God bless you for coming clean and making amends and saying what needs to be said… there's no more powerful person to say it than you, Jack, because you were there." Moore did describe Abramoff as "a bit of a broken man," but working to repair himself as a victim of the system. Abramoff, meanwhile, noted that Moore was "gracious" and seemed pleased to receive such a warm reception.
With America as polarized as the media loves to claim it is, such a display of unity between an decades-old and newly reformed anti-corporatists may be heralded as a sign of peace in our time being a viable possibility, at least for those on the left. The right may be a little more suspicious of this more-civil-than-expected union.
The segment via MSNBC below:

Have a tip we should know? tips@mediaite.com