Michael Steele Warns Rachel Maddow Against 'Rejiggering' The Health Care System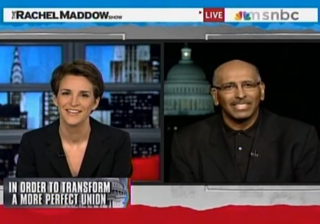 Michael Steele's semi-regular visits to The Rachel Maddow show are becoming must-see cable news TV, if only because of how much obvious fun the pair have when they debate each other. This week, Steele and Rachel Maddow revisited the health care debate, searching for a way to "rejigger" the system in a way that both sides could agree on. Steele's opposition to overhauling the entire system proved difficult for Maddow to negotiate with.
Maddow and Steele predictably interpreted President Obama's speech on health care reform in completely different ways, with Steele calling it a "45 minute campaign speech" and Maddow arguing that she was "surprised to see that much policy from the President." "I thought that he was going to be campaign, campaign, campaign," Maddow confessed. That said, while Maddow was unhappy with the current health care plan, she also viewed it as "the only federal effort we've had to lower health costs," with Republicans instead offering "to make old people pay."
Steele, of course, disagreed with that assessment, though he agreed that "insurance companies are something you've got to watch." "But at the end of the day," Steele warned, "the government can be just as bad as that bad old insurance company." Steele argued that, rather than let the government take care of it, Republicans are talking "about looking at the market forces that can help drive those costs down." He also added that he didn't believe Democrats had to "upend the entire system to create an avenue for portability." "I don't think we need to rejigger the entire system," he concluded.
Maddow was happy to hear the news: "I think that rejiggering the entire system enough to privatize health care is the type of rejiggering that I am delighted to hear you say reps are going to run on."
The segment via MSNBC below:

Have a tip we should know? tips@mediaite.com