Michelle Malkin Slams Conservatives For 'Moaning And Groaning' About Romney Campaign Missteps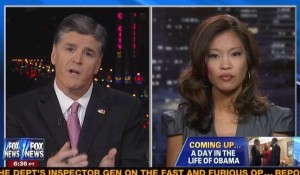 Michelle Malkin joined Sean Hannity tonight to react to a video of President Obama in 1998 that they argued was another clear example that the president believes in collectivism. Malkin defended Romney against the rising tide of conservatives who have been piling on the criticism of Romney over a number of campaign missteps and bashed the media for keeping Romney the focus of their scrutiny as opposed to Obama.
RELATED: Morning Joe Looks At Romney Backlash From The Right: Right Isn't 'Angry' At 'The 47 Percent'
Hannity played a video of Obama from 1998 when he said that forces like the market should be "under our control" and touted the virtue of Americans coming together to find common ground. Hannity cited the video as "more evidence" that Obama believes in collectivism. Malkin dismissed the "jaded, cynical observers" who would dismiss the impact of the video on the presidential election, saying it could finally expose people to "the real Obama."
Hannity brought up the issue of media bias, arguing that the media has largely been protecting the president and keeping the negative focus of the campaign on Mitt Romney and his damaging videos. Malkin said that the Romney campaign shouldn't be listening to Republican strategists who she said were in Obama's camp four years ago, specifically calling out Peggy Noonan and David Brooks.
"You look at all of the front pages of a lot of these so-called conservative websites and they're moaning and groaning about how Romney has lost it. But out here in the heartland, outside of that bubble, people aren't paying attention to what [Mother Jones writer] David Corn is saying."
Hannity added that Romney needs to start going on the offense against Obama and explain to people "how conservatism will help every American in this country." Malkin said that Romney's words have been "suppressed by these lapdogs" in the media trying to "whitewash" Obama's past.
Watch the video below, courtesy of Fox News:
—–
Follow Josh Feldman on Twitter: @feldmaniac
Have a tip we should know? tips@mediaite.com
Josh Feldman - Senior Editor