Mika Brzezinski Defends Rand Paul: 'May Not Have Liked' How He Said It, But Raised Valid Problem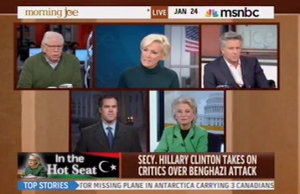 On Thursday morning, the Morning Joe panel tackled Secretary of State Hillary Clinton's Benghazi testimony. They didn't however come to an agreement on whether the whole ordeal was fair or simply a "partisan witch hunt."
"I think if I had been Secretary Clinton the first thing I would've said — 'Senator Paul, it would've been so interesting that you would've appointed me in the first place,'" Jon Meacham remarked.
Criticizing the two "pygmy senators," Carl Bernstein said "they've become partisan tormenters," and questioned why that's the case. There was a "colossal failure" in Benghazi, he added, but the idea of saying "this woman ought to be impeached" is "absurd."
"I don't think anyone was that out of line," Mika Brzezinski chimed in. Clinton's "just fine. She can handle Rand Paul. Again, Bernstein said we should find out the facts but deemed the whole thing a "partisan witch hunt." To the contrary, Jane Harman added that while she disagreed with some of the comments made during the hearings, she had no problem with the comments being made.
What matters, she added, "is what we do going forward." There were a lot of important questions to be asked, Willie Geist noted, adding that the hearings may not have gotten to the "core."
"Rand Paul was bringing up a point," Brzezinski said. "You may not have liked the way he brought it up. But if an ambassador in a hot zone cannot communicate with the Secretary of State on the issue of security, there's something to be looked at."
Take a look, via MSNBC:

Have a tip we should know? tips@mediaite.com