Mitt Romney Concedes Election: 'I Pray The President Will Be Successful In Guiding Our Nation'
Mitt Romney Concedes: 'I Pray President Will Be Successful In Guiding Our Nation'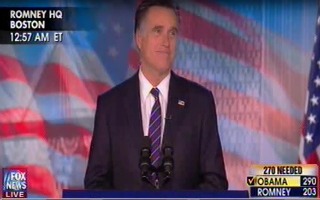 Mitt Romney took to the stage in Boston at 12:55 a.m. EST on Tuesday after losing the presidential election to concede. Romney thanked his supporters profusely for their effort on his campaign's behalf. He said that he wishes President Barack Obama well, and prays that he is able to guide the nation through a time of troubles.

"I wish all of them well, but particularly the president, the first lady and their daughters," Romney said. "This is a time of great challenges for America, and I pray the president will be successful in guiding our nation."
Romney thanked his running mate, Rep. Paul Ryan (R-WI). He said that he hoped Ryan would continue to serve in Congress and serve as a guiding force for the nation.
He thanked his wife, Ann Romney, and his five sons for their work on his campaign. He also thanked his campaign staff, including his campaign manager Matt Rhodes.
"I don't believe that there's ever been an effort in our party that can compare with what you have done these last years," Romney said.
"The nation, as you know, is at a critical point," Romney continued. "At a time like this, we can't risk partisan bickering and political posturing. Our leaders have to reach across the aisle to do the people's work."
"I believe in America. I believe in the people of America," Romney said to applause. "I ran for office because I'm concerned about America."
"This election is over, but our principles endure," Romney concluded.
Romney thanked the president and again offered his prayers for his success. He joined Ryan for his final goodbye to his supporters.
Watch the speech below via Fox News Channel:
> >Follow Noah Rothman (@Noah_C_Rothman) on Twitter
Have a tip we should know? tips@mediaite.com