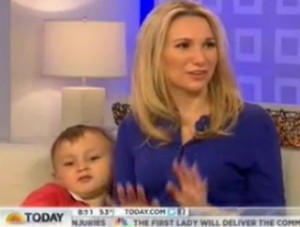 Jamie Lynne Grumet appeared on the Today show with her 3-year-old son, hitting back at critics who said her breastfeeding cover photo in Time magazine went too far. The cover photo features Grumet casually feeding her pre-school aged son, who is standing on a chair to reach her breast.
"Okay Jamie, you knew this was going to cause a stir. Did you know it was going to cause as much of a stir?" asked co-host Savannah Guthrie.
"No, I don't think any of us were expecting it," Grumet revealed.
RELATED: NASCAR Driver Kasey Kahne Slams Mothers Who Breastfeed In Public
"But you wanted to make a point, and what point was that?" Guthrie asked.
"The point — yes, we knew exactly what we were going to get into," Grumet said. "I felt like our family was basically one of the better ones to handle this…"
"You're saying you yourself were breast-fed until you were 6," Guthrie continued.
"Yes," Grumet responded, distracted by her child.
"Attachment parenting is not just about breast-feeding, it's also about letting the child sleep in your bed, basically, being with the child constantly. Is that what your life is like?" Guthrie asked.
"It is and I mean, I don't feel like that takes away from my own personal life," she opined. "My relationship with my husband is very, very important to me and I think that it gives my children a strong bond, too. So I think a lot of people say, you know, you can't really be, you know, intimate with your husband if you're co-sleeping and that's just — I mean those are kind of myths, too."
Watch the interview below, via NBC:

Have a tip we should know? tips@mediaite.com