Morning Joe Agrees Woodward 'Wrong Guy' To Mess With, As Scarborough Recalls His Own WH Threats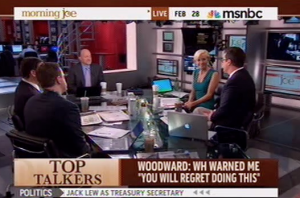 Given the recent developments in the tension between Bob Woodward and the White House, Joe Scarborough was especially excited to discuss the story. Finding the whole ordeal "fascinating," the panel largely agreed that Woodward is the wrong journalist to mess with — with Scarborough recalling his own past threat from the White House.
Woodward has underlined that the while the White House is pushing blame on Republicans, the whole idea of sequestration was theirs to begin with. While conservatives were pleased to see his report, the White House was not: Woodward said he received an email from a top White House official saying, "you will regret doing this."
"Where do these people come from?" Scarborough asked, as Mika Brzezinski noted, "As least they talk to the press and are not afraid." But these types of spats happen with every White House, he added.
For their part, a White House official responded, saying the email was not intended as a threat (via Reuters):
"The email from the aide was sent to apologize for voices being raised in their previous conversation," the aide said. "The note suggested that Mr. Woodward would regret the observation he made regarding the sequester because that observation was inaccurate, nothing more."
While Woodward can laugh it off, Mark Halperin chimed in, not all reporters would be able to: Woodward won't be intimidated, but others can be, which is the worry. "It's just not good for the country."
On that note, Scarborough recalled receiving a threat from the Bush White House, vaguely relaying a story that he chose not to detail on air.
"I ran the story every night for two weeks. […] They called in the middle of the show and demanded that my executive producer take something down. Our executive producer, a ways back, started to take it down, I said, 'If you take it down, I'm going fire you. We're doing this story for two weeks.' And guess what? They never did it again. And that happens."
What's fascinating this time around, he said, is that it's Woodward we're dealing with. Willie Geist agreed that a young reporter would be more affected by such a response from the White House, perhaps worrying about their career and future access to the White House. In this case, Geist didn't read the statement as a threat, but noted that "they picked the wrong guy" to mess with.
"The bottom line," Andrea Mitchell asserted, "is the White House has to be able to take criticism and not be so aggressive in pushing back because, in fact, frankly there isn't enough tough reporting in Washington these days."
Take a look, via MSNBC:

Have a tip we should know? tips@mediaite.com