MSNBC Editor: GOP Will Need To Lose Another Election In Order To Appeal To Hispanics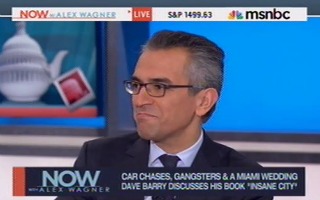 On Thursday, MSNBC.com executive editor Richard Wolffe speculated about the future of the Republican Party's electoral fortunes given that so many of its elected members continue to oppose comprehensive immigration reform. He said that it was striking that the party had not yet internalized the rebuke they faced at the hands of Hispanic voters in the 2012 election.

Wolffe said he expects the GOP will have to suffer yet another electoral defeat before a new group of conservatives can emerge with views palatable to Latino voters.

RELATED: Obama Says Nothing In Presser, Saves Immigration Reform
MSNBC host Alex Wagner noted that, after several days of what appeared to be genuine bipartisanship in Congress over the need to reform the nation's immigration system, there seems to now be "some breaking in the ranks."
She quoted Rep. Lou Barletta (R-PA) who expressed reservations about the present set of immigration reform proposals and asked if any reform would generate a measurable among of goodwill among Hispanic voters towards the Republican Party.
"He kind of has a point," Wolffe said. "Immigration alone is not going to win Latino votes for Republicans."
He noted that Democratic politicians appeal to Hispanic voters because they are speaking to their priorities – immigration reform, access to health care, and good jobs.
"Republicans cannot think that this is a simple transaction, and if they do, they're not going to make it back to national power," Wolffe observed. "I think, for the Republican Party to really shift, they need to have another round of self-reflection."
"Another stinging defeat," Wagner agreed.
"It's not going to be one person – one charismatic leader – that can totally shift this party out of where it is right now," Wolffe concluded.
Watch the clip below via MSNBC:
> >Follow Noah Rothman (@NoahCRothman) on Twitter
Have a tip we should know? tips@mediaite.com