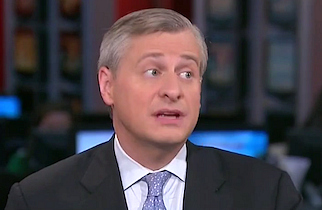 Morning Joe regular Jon Meacham argued Wednesday morning that the fallout from the Affordable Care Act's federal exchange website could haunt the cause of public sector programs for a generation.
"This is, in a way, the progressive equivalent of declaring ketchup a vegetable," Meacham said. "The website problems have the potential, for a generation, to be used as an argument against government-run programs. It may not be fair. The first thing may not have been totally fair. But this is like a $600 toilet seat in the Pentagon, it's like the ketchup is a vegetable. It will be used for years and years. This is a self-inflicted wound for people who believe in the public sector."
Co-host Joe Scarborough argued that the Obama administration had engaged in "policy overreach" in passing such a massive bill, but recurring guest Harold Ford differed, aligning himself more with Meacham's criticism of government management.
RELATED: Krauthammer to MSNBC: If Obamacare Fails, Liberalism 'Will Be Set Back a Full Generation'
"It was political overreach, but not a policy overreach," Ford said. "This was a poor job of execution. They should have pushed it back if they knew they were not ready. As a result it raises real questions for the long-term about whether the government and public entities can manage enormous projects like this."
"Until there is some sort of transformative presidential congressional leadership, which I don't particularly see on the horizon, this is the way it's going to be," Meacham said. "This is the new normal."
Watch the full clip below, via MSNBC:
[Image via screengrab]
——
>> Follow Evan McMurry (@evanmcmurry) on Twitter
Have a tip we should know? tips@mediaite.com