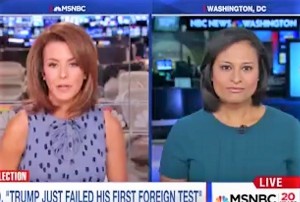 As anyone who tuned in to any cable news network at any time on Wednesday morning knows, Republican presidential nominee Donald Trump traveled to Mexico  for a (now-disputed) meeting with Mexican President Enrique Peña Nieto, followed by a press conference at which Trump said the opposite of everything he's ever said before in his life, but did manage to keep his pants up and his lunch down.
Now, the same media that absurdly hyped the visit is gushing over Trump's performance, even on "liberal" MSNBC, where correspondent Kristen Welker and anchor Stephanie Ruhle were full of unwarranted praise for Trump Thursday morning:
Welker: There is a point about optics to be made here. Donald Trump yesterday had a pretty good day when it comes to the optics. he was standing there. clinton has been fundraising. they have been on the defense a little bit.

Ruhle: After seeing Donald Trump there looking pretty presidential, this could push her to actually accept the invitation and go to Mexico. It didn't as easy as it looks but he did look pretty strong there. People thought he was statesman-like.
That is not to say that Ruhle and Welker are in any way distinct from the rest of the news media, which has been uniformly pushing the Mexico visit as a Trump win, despite an utter lack of evidence to that effect.
Reporters and "objective" anchors continue to talk about "optics" as though they were somehow a force beyond their control or ability to contextualize, but a guy managing to stand erect and avoid overtly racist speech for 15 minutes is only "presidential" if you all say it is!
This is an opinion piece. The views expressed in this article are those of just the author.