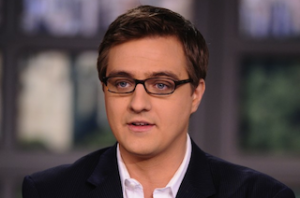 With the return of Ed Schultz to MSNBC weekdays this week, it's hard to forget he was pushed to weekends in the first place to make room for Chris Hayes, the newest MSNBCer to take on the coveted 8 PM slot. Needless to say, Hayes' ratings have been less than stellar and much has been written about why that is. In a New Yorker interview published Monday, Hayes admits that his ratings are not ideal, but says he doesn't want to change anything about his show based on the numbers.
The New Yorker piece, written by Kelefa Sanneh, is behind a paywall, but the Huffington Post highlights this relevant passage about Hayes' dismal ratings.
MSNBC president Phil Griffin told Sanneh he was being patient. "I'm building for the future," he said. "We're making a bet that this is what our audience wants." Sanneh also revealed that the two look at focus group data every week.

For his part, Hayes was blunt—"obviously, the numbers are bad right now"—but he cautioned against making any drastic changes based on what worked on any given evening.

Looking at ratings data "tickles the worst instincts human beings have on casual inference," he said, in a Hayesian answer if ever there was one.
Mediaite's Noah Rothman has pointed out in the past that Hayes' dedication to staying the course and talking about the news he wants to talk about as opposed to what's dominating the headlines may be a problem going forward.
—–
Follow Josh Feldman on Twitter: @feldmaniac
Have a tip we should know? tips@mediaite.com
Josh Feldman - Senior Editor