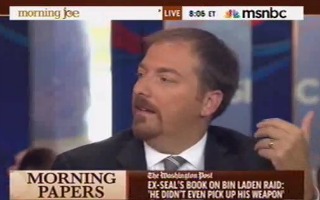 NBC News' Chief White House Correspondent Chuck Todd appeared on Morning Joe on Thursday where he gave voice to the counterintuitive observation that the Republican Party has showcased a diverse array of speakers at this year's convention that the Democratic party only wishes it had. This comment did not sit well with left-of-center political analysts who found the statement absurd.

Todd and Joe Scarborough observed that very few Southern conservatives had addressed the Republican National Convention, which is odd given how that base of voters buoys the GOP in election years.
"By the way, Democrats wish they had the diversity of speakers and deep bench to show America," said Todd. "The Democrats wanted a keynote speaker that was Hispanic and they had to dig inside a red state to find a Hispanic mayor."
Todd noted that the GOP is featuring a broad range of Hispanic elected officials like New Mexico Gov. Susana Martinez, Texas GOP Senate candidate Ted Cruz, Nevada Gov. Brian Sandoval and Florida Sen. Marco Rubio.
"One thing the Republican party has are a lot of elected officials to help deal with this issue of going against the grain on the fact that their mostly white — their support base is a white, Southern part of the party," said Todd. "The face of the Republican party of elected leaders – Democrats wish they had that diversity."
Todd's comments have inspired some unambiguous rebukes from the left. Over at Talking Points Memo, editor Josh Marshall called Todd's statement "one of the stupidest things I've ever heard anyone say."
Watch the segment below via MSNBC:
> >Follow Noah Rothman (@Noah_C_Rothman) on Twitter
Have a tip we should know? tips@mediaite.com