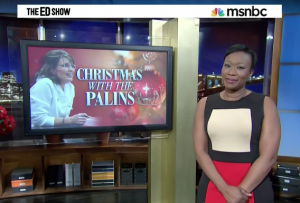 Filling in for Ed Schultz on Thursday, MSNBC's Joy Reid went after Sarah Palin for having Christmas trees on Christmas. Yes, it was partly tongue-in-cheek, but Reid did contend it comes across as hypocritical for someone preaching "Christmas purity" to have a Christmas tree in the first place.
Reid said that Palin presents herself as a Christmas warrior, and so therefore she obviously wants to keep all Christmas traditions alive, including the fact that in one part of the Bible, Jeremiah has some less-than-positive thoughts about dressing up trees.
For the practices of the peoples are worthless; they cut a tree out of the forest, and a craftsman shapes it with his chisel. They adorn it with silver and gold; they fasten it with hammer and nails so it will not totter. Like a scare crow in a cucumber field, their idols cannot speak; they must be carried because they cannot walk. Do not fear them; they can do no harm nor can they do any good.
Now, interpretations of the Bible vary, and Newsbusters found two Christian organizations explaining why the aforementioned verse does not apply to Christmas trees. Either way, Reid concluded the segment, "But if Sarah Palin wants us to believe there's only one true meaning of Christmas, she can keep on pretending."
Earlier in the day, Mediaite's Andrew Kirell took issue with Reid slamming Glenn Greenwald for calling out a pro-Obama bias on MSNBC, and Reid responded with some shots at Mediaite for what she viewed as scraping the bottom of the barrel for news stories.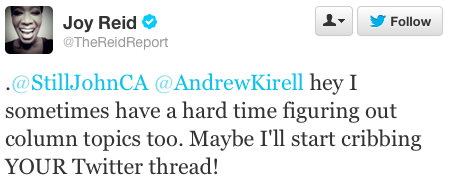 On an unrelated note, you can watch Reid give Sarah Palin flak for a Christmas tree below, via MSNBC:
[h/t Newsbusters]
[photo via ???]
— —
Follow Josh Feldman on Twitter: @feldmaniac
Have a tip we should know? tips@mediaite.com
Josh Feldman - Senior Editor