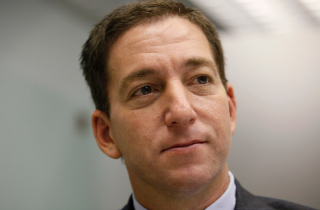 The Guardian investigative reporter Glenn Greenwald caused a stir on Thursday when his interview on MSNBC about his contacts with NSA leaker Edward Snowden evolved into a debate over the journalistic ethics of MSNBC itself. Greenwald said that, even though he is protective of Snowden as a source, he is still a journalist as are those pro-Obama reporters who appear on that network.

On Friday, Greenwald took to his personal blog where he clarified some of the claims that he made on MSNBC on Thursday. He began by noting that he was clearly not, as fill-in host Kristen Welker pointed out, accusing every host or contributor on the network of being protective of the president. "The indisputable point is that many, many people calling themselves journalists on MSNBC do exactly that," Greenwald asserted.
RELATED: Greenwald Snarks at MSNBC: I Defend Snowden Like You Defend Obama '24 Hours a Day'
"My main point was to note the stunning irony of being told on MSNBC – of all places – that a journalist 'crosses the line' by expressing opinions and having political agendas," he continued. To reinforce this point, he linked to a Poynter analysis of MSNBC's election coverage which found that the network ran zero positive pieces about Mitt Romney in the last week of the campaign and a Pew Research Center report which found the network was harder on Romney than Fox News was of Obama.
But Greenwald's final cut into the network was the unkindest of all: "If you want to argue with someone who (unlike me) actually made absolutist claims about MSNBC's blinding pro-Obama hackery, go find these two individuals," Greenwald asserted. He cited two Democratic lions, Bill Clinton and Barack Obama, who both attacked MSNBC for allowing their editorial bent to dominate the network's programing.
"Boy, it really has become our version of Fox," Clinton quipped in early 2012.
Obama took a good-natured dig into the network at April's White House Correspondents Association dinner. "David Axelrod now works for MSNBC, which is a nice change of pace since MSNBC used to work for David Axelrod," the president joked.
[Photo via AP ]
— —
> >Follow Noah Rothman (@NoahCRothman) on Twitter
Have a tip we should know? tips@mediaite.com