MSNBC's Phil Griffin On 60% Black Audience Gain In 2012: 'People Want To Know That We Reflect Their World'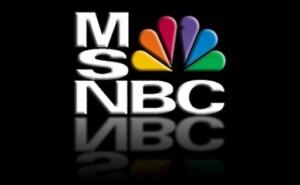 2012 was a very good year for cable news, with a presidential election that generated huge public interest, and a brightly-lit media landscape that cranked out content to a voracious audience. While Fox News remained the number one cable news network, and CNN performed well on breaking news stories, MSNBC had a lot to brag about in 2012. The network enjoyed significant (around 20%) ratings increases across the board, but made astonishing gains with their already-large African American audience, growing that audience by 60.5% for the Mon-Sun 8pm-11pm period. MSNBC President Phil Griffin told me, in a phone interview, that he is "thrilled" with that result, and that it "says a lot about what we've been doing over the last few years."
In that same time period, CNN grew its black audience by 23.7%(from 131,000 in 2011 to 162,000 in 2012, 23.9% of their total audience) , while Fox News' declined by 23.7% (38,000 in 2011 to 29,000 in 2012, 1.4% of their total audience), but MSNBC had more black viewers than both of those nets combined (from 177,000 in 2011 to 284,000 in 2012, 31.4% of their total audience). What's more impressive is that MSNBC attained 60% growth after being number one in that demographic last year, and the year before.
"This has been steady growth for us for some time," Griffin noted. "I think we made a commitment, we decided, that in order for this channel to succeed, that we had to reflect the country. This meant that we had to be part of the country in ways that the other channels weren't."
Part of that commitment, according to Griffin, is the "look" of the channel. "We have a diverse on-air group of people," Griffin said, "because that matters, and people want to know that we reflect their world. And it's not just a single show – its across the board. You look at the guests every hour and we make sure that we have women, African Americans, everything, and I think to spend a day watching MSNBC is to see America as we have seen it."
That diverse array of talent, including hosts like Tamron Hall, Touré, Melissa Harris-Perry, and Rev. Al Sharpton, and ubiquitous contributors like Joy Reid, Goldie Taylor, Karen Finney, Prof. Michael Eric Dyson, Chairman Michael Steele, Eugene Robinson, and Jonathan Capehart, is an organic result of the network's editorial philosophy, rather than an end unto itself, says Griffin.
"It wasn't like we said 'Oh, we have to have a diverse person on here and there,'" he said. "We made a decision. We made a commitment in ideas, issues and everything – the audience followed, and that goes back to four or five years ago. As we grew, we recognized that it was the right thing to do. It's giving a voice to people in these kinds of programs who don't always get a voice. Our look is as diverse as any on mainstream TV. I'm incredibly proud of it. It's not like we decided 'We're going to increase our African American viewership by 60%,' but I'm thrilled that it happened, and it says a lot about what we've been doing over the last few years."
2012 was also a year in which race played a central part in some huge news stories, and MSNBC was instrumental in putting them on the public's radar. Thanks in large part to Rev. Al Sharpton, they were early to cover the Trayvon Martin story, and stayed on the Republican effort to depress minority turnout through voter I.D. laws.
Griffin isn't patting himself on the back for covering voter I.D., though. "I think it's outrageous more media outlets didn't go to the story and do it," he said. "Many people said they though it was the so-called 'liberal issue. Voting in America is not a 'liberal issue' – it is an American issue. We took it head on, and I guarantee you, in 4 years if the same thing happens again, you'll see many more media outlets doing it, because they'll recognize how important it is."
Part of the network's success likely has to do with being in the right place at the right time in history. 2012 saw the contentious reelection of Barack Obama, the first black President of the United States, and as Griffin pointed out, "This is the most diverse Congress ever. On the Democratic side, there are more women and African Americans than ever. It's just a great statement on what we have been doing over the last few years, that we really do reflect the country."
As always, Griffin was effusive in his praise for the network's stars, from Rachel Maddow, Ed Schultz, Rev. Al Sharpton, and Lawrence O'Donnell, to new additions like Harris-Perry and Now host Alex Wagner, and chalked up their success to the depth of their coverage. "Sometimes, in television, people are afraid to go deep," he said, but our viewers expect us to go deep on an issue."
Aside from Griffin's infectious enthusiasm for MSNBC's talent, he said that he's most proud of the fact that "we were honest with the viewers. I think we had progressive point of view, with smart people that lived within the world of facts, we had a progressive sensibility."
"By the end of the year," he continued, "people connected with us in a way I've never seen at this channel – they believed in our people and they trusted our people. And in the end we were right – we never said it was going to be a landslide for the democrats – we were honest about it. I think that our audience tuned in to us because there is a matter of trust, and a valid belief that what we were doing was done with real honesty and care about the country."
Griffin had little to offer competitor Fox News, which lost a significant amount of its already minuscule black audience, in the way of advice. "I'll let them figure it out." he said. "I think that… look at their channel, look at our channel, and I think you understand why there is a difference in viewership."
Have a tip we should know? tips@mediaite.com