Crowd Laughs, Applauds Chicago Teachers Union President After She Jokes About Beheading The Rich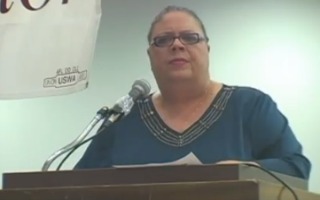 Controversy erupted at the Illinois Labor History Society's "Salute to Labor's Historic Heroes from the History Makers of Today" conference when Karen Lewis, president of the Chicago Teachers Union, drew applause and laughs for suggesting that a past generation of labor leaders preferred to resolve disputes with murder. Lewis drew laughs when she talked about beheading the rich as a preferred method of conflict resolution for disgruntled labor organizers of a bygone era.

RELATED: Washington Post's Charles Lane Savages 'Moral Repugnance' Of Chicago Teachers Union Strikers
"At this very moment I still believe there is one party in this country – that is, the party of money, with two branches," Lewis said.
She went on to quote someone who leaves her with some hope for the future:
Do not think for a minute that the wealthy are ever going to allow you to legislate their riches away from them. Please understand that. However, we are in a moment where the wealth disparity in this country is very reminiscent of the robber baron ages. The labor leaders of that time, though, were ready to kill. They were. They were just – off with their heads. They were seriously talking about that.
Lewis drew laughs and scattered applause from her suggestion. "I don't think we're at that point," Lewis said.
"The key is that they think nothing of killing us," Lewis added. "They think nothing about putting us in harm's way. They think nothing about lethal working conditions.
Lewis was forced to apologize in 2011 after she publicly mocked Education Sec. Arne Duncan's lisp, saying she was just trying to "lighten the mood." Lewis led her union in a strike last year for more than a week over a contract dispute.
Watch the video below:
h/t Gateway Pundit
> >Follow Noah Rothman (@Noah_C_Rothman) on Twitter
Have a tip we should know? tips@mediaite.com