MSNBC's Todd: You Want to Question Hillary's Age, You'll Have to 'Throw Reagan Under the Bus'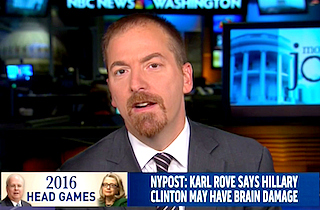 Following Karl Rove's little oopsy yesterday when he questioned Hillary Clinton's cognitive recovery after a 2012 fall, MSNBC political analyst Chuck Todd warned the GOP strategist that if he wanted to make Clinton's age and health a big deal in 2016, he might have to do so at the expense of former President Ronald Reagan.

"The fact is she's the same age as Reagan was," Todd said on Morning Joe. "If you're going to go down this road and try to claim she's going to have some health issues, then you may have to be throwing your own guy, Ronald Reagan under the bus a little bit. So I think this is a dangerous, tricky road to go down."
RELATED: Here's Exactly How Karl Rove's Theory of Clinton's 'Brain Damage' Will Work
"Any presidential candidate has to release their health records," Todd continued. "I don't care if they're forty-five or seventy. Because at the end of the day, the American public wants to know, they want to make their judgment about who your running mate is, things like that. So that is fair game. But to sit there and say it only really applies to her, it's going to look a little sexist if you're not careful, and it's going to backfire."
Over on Fox & Friends, electoral expert Larry Sabato reminded Brian Kilmeade that Clinton and Reagan are the same age, so this seems to be a theme.
Watch the clip below, via MSNBC:
[Image via screengrab]
——
>> Follow Evan McMurry (@evanmcmurry) on Twitter
Have a tip we should know? tips@mediaite.com