MSNBC's Touré On What Fox News Does Well: 'It's Well-Lit, The Girls Look Pretty'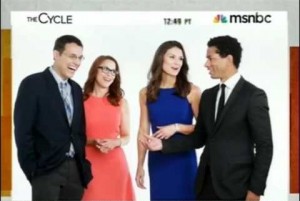 As part of my interviews with the stars of MSNBC's The Cycle, I asked them to name something that they think each of the other major cable news networks does well. The responses I got were illuminating, and mostly insightful. While Krystal Ball, Steve Kornacki, and S.E. Cupp were each able to identify relative strengths for Fox News and CNN, the ever-provocative Touré offered jokingly faint praise, saying of Fox News that "It's well-lit, the girls look pretty," and expressing admiration for CNN's adherence to its schedule.
While visiting 30 Rock this week, I had the chance to sit down with the hosts of The Cycle, the commentary fondue pot that replaced Martin Bashir at 3 pm when Bashir moved into Dylan Ratigan's vacated time slot. The show came together very quickly after Ratigan's departure, but the four wildly divergent hosts have developed an easy, cheerful chemistry in a short time, a chemistry that continues offscreen.
In this excerpt of our interview, the hosts give some keen observations about the competition. On Fox News, Krystal Ball offered that the network is "a very professionally run organization," a fact which even its harshest critics privately acknowledge. Ball added that Fox understands "how to do politics and make it entertaining. It's a very well-run property, I would say. They know what their brand is, and everything they do is to drive that brand."
Steve Kornacki offered similar praise for Fox News, saying "They know, and they decided a long time ago, what they are and what they do, and who they're speaking to, and they're very good at that."
Fox is a direct injection into its base," said conservative Cycle-ist S.E. Cupp. "It speaks their language, it gets the messages."
S.E. also pointed out that Fox came along "when there was a real gap in the marketplace for conservative points of view on television," and hat Fox News "addressed that gap very well."
They also pointed out CNN strengths like the network's coverage of international stories, their posture of neutrality (which Kornacki says "has a place"), and the non-confrontational way they present political debate. Others whom I interviewed also gave CNN high marks for their international coverage, which illustrates the deadly Catch-22 CNN is dealing with. The thing they're the best at is the thing that costs the most money, and is the least-dependable way to get ratings (and therefore, money). What's even more remarkable about CNN's ability to stay on top in this area is that they not only lack the profit-power of high-rated Fox News, but they also don't have a parent network with a worldwide news operation to fall back on, like MSNBC does.
Here's that excerpt of the interview (look for the rest of our chat later this week):
Follow Tommy Christopher (@TommyXtopher) on Twitter.
Have a tip we should know? tips@mediaite.com