Must See: O'Donnell Talks A Lot About Sodomy And Oral/Anal Sex And… You Know What? Just Watch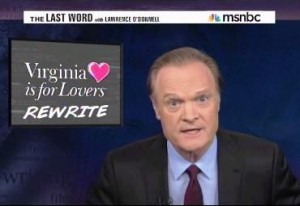 If you ever wanted to listen to Lawrence O'Donnell talk about vaginal, anal, or oral sex for a good few minutes, this is DEFINITELY the post for you. And if that thought has never entered your mind, watch anyway, because you will likely never see anything quite like this on cable news in the foreseeable future. O'Donnell absolutely tears apart Ken Cuccinelli, the Virginia attorney general running to be the next Republican governor, for backing an anti-sodomy law that, it turns out, he isn't being completely honest about.
O'Donnell was inspired to read the law in question, and proceeded to share with his viewers exactly how horny elected officials get when they really put their minds to it. He read some very vivid and graphic legal descriptions of what sodomy is, especially the part that calls it a "crime against nature."
But it's not just strictly sodomy that's out of bonds, it's "most gay and straight sex" and sex with "any brute animal." Cunnilingus is right out. In fact, the only type of sex that technically remains legal is heterosexual vaginal intercourse.
All of this led O'Donnell to a very important conclusion: when Cuccinelli participates in gubernatorial debates, it is completely fair and reasonable to ask him if he has ever violated that law with his wife.
O'Donnell concluded, "I also want to ask what the new state tourism slogan is gonna be, because 'Virginia is for lovers' is bullshit.'
Please, please, PLEASE watch this below (and then do whatever freakish thing you do in the dead of the night with your consensual partner), via MSNBC:
—–
Follow Josh Feldman on Twitter: @feldmaniac
Have a tip we should know? tips@mediaite.com
Josh Feldman - Senior Editor