Dan Abrams And Nancy Grace Clash Over Casey Anthony Trial's Closing Arguments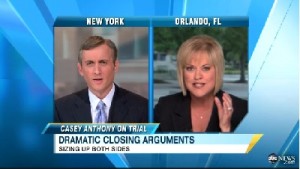 Happy 4th of July, kittens! Speaking of fireworks and awkward time spent with family… Mediaite founder and ABC legal analyst Dan Abrams and HLN's Nancy Grace to discuss closing arguments in the captivating Casey Anthony trial.
Abrams took a look at the judge's decision to not permit the defense to mention its theory that George Anthony, Casey's father, sexually abused her, which somehow resulted in her "inappropriate" behavior following the death of her daughter:
Well, first of all, I think it was the right ruling, meaning the defense had presented no evidence up to that point that that had happened. And when you don't present any evidence, you can't bring it in the closing arguments. But, secondly, I think it may have helped the defense. The more they argue about George Anthony, the more they point at her father, the weaker their case gets.

So I think the fact that they weren't able to go off on what I view as a tangent actually may have helped the defense's case.
The segment's money quote belongs to Nancy Grace. She weighed in on the harsh language used by defense attorney José Baez during his closing arguments by noting that "being a liar and a slut is pretty much legal in every jurisdiction in this country."
Later, she called Abrams' assessment of the judge's ruling his "spin," opining that he was trying to put a good face on it where the defense was concerned and that this is "crazy."
The two then began to argue about the merits of addressing the defense's theory that Anthony had been abused by both her father and her brother, with Grace at one point exclaiming "Uh Uh!" as Abrams attempted to offer his rebuttal.
We also got to learn a fun fact about Grace's young children:
Dan, my three-year-olds have imaginary friends! One is named Samuel Pocket and he lives in a tree with the Joker, of Batman.
Watch the segment, courtesy of ABC News:
Have a tip we should know? tips@mediaite.com