New Mitt Romney Ad Features President Obama's Response To Fox News' Ed Henry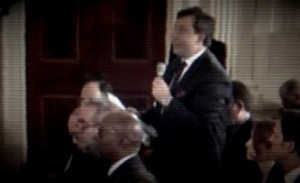 In a sign of the lightning-fast times, President Obama's chop-busting exchange with Fox News' Ed Henry at Thursday's joint press conference is the star of a new Mitt Romney ad that was released later that same day, and was "exclusively previewed" on Chuck Todd's The Daily Rundown this morning. The ad cobbles together bytes of the President and his advisers saying Romney's name, and as the ad's title suggests, poses them as a sign that the President is "Nervous" about Romney's candidacy.
The ad itself is rather silly, featuring twitchy video effects applied to 13 mentions of Romney's name by officials and advisers to President Obama, and the President himself, with graphics that suggest the President isn't worried about jobs as much as he is about Romney. Aside from that ludicrous premise (Romney and his rivals mentioned the President 45 times in one night; they must be basket cases!), I recognized at least one of those clips as being of a decidedly not nervous Jay Carney quoting Romney's eloquent defense of the individual health care mandate as a conservative idea. I wouldn't be surprised to see that turn up in an Obama For America ad sometime soon.
The spot also suggests that "the White House" is spending too much time on Romney, and not enough on jobs, but most of the clips are of David Axelrod, and one is of departed Press Secretary Robert Gibbs, neither of whom have worked in the White House for quite some time. Most of the Axelrod quotes are from a single press conference call from Wednesday, pegged to Tuesday night's Republican debate.
Additionally, the President actually mentioned jobs 13 times during the joint press conference alone. To paraphrase Bill Burton, he's not that into you, Mitt.
What is true, though, as Chuck Todd points out, is that the Obama campaign has made Mitt's inevitability as the Republican nominee a focal point of their early campaign efforts, and not in a good way. Former Obama spokesman Bill Burton has been hammering that theme like Old John Henry for months, contrasting Romney's soft-but-consistent support with the parade of non-Romneys that continue to rocket past him in the polls, and back down. It's the subject of a new Burton memo out today, entitled "What's The Matter With Romney?"
From a media perspective, the Romney ad is unusual in the way it makes use of Fox News Chief White House Correspondent Ed Henry. While reporters often appear in campaign ads as background, it is the reporting that's the focal point, not the reporters themselves. Whether or not you think the President's jab at Henry was fair, taking it (and Henry's image) and putting it into a campaign ad crosses a line that most reporters would draw rather brightly. Absent context, what does Henry's inclusion in the ad infer about him and his network? It's one thing to have an adversarial journalistic posture toward an elected official, but quite another to be dropped into an ad for the other "team."
Romney's campaign could easily have played the President's remark over a still photo, as it did for many of the David Axelrod quotes, and avoided drawing Ed Henry into the campaign.
Possibly damaging inferences aside, most reporters on the White House beat are loath to become the story themselves, preferring to let their work speak for itself, and this is true of Ed Henry more than most. I doubt very much that he would ever approve of this use of his image in a campaign ad.
While the footage itself is public domain, the Romney campaign really should have reached out to Fox News and Ed Henry to see if they would object to his image being included in the spot. Fox News confirms to Mediaite Managing Editor Colby Hall that the Romney campaign did not reach out and ask for permission. The Romney campaign has not yet responded to our request for comment.
Here's the Romney ad as it was shown on The Daily Rundown, along with a new DNC ad that hits Romney over one of his debate responses:
Have a tip we should know? tips@mediaite.com