New Piers Morgan Exec Producer Jonathan Wald: "We Hope To Make It Mandatory TV"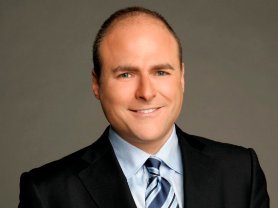 Jonathan Wald is returning to the TV news business after nearly two years on the outside, remaining active in the media as a consultant, a journalism professor at Columbia University and on Twitter.
We talked to the new Executive Producer of CNN's Piers Morgan Tonight about what viewers can expect, his former home CNBC – but not Parker Spitzer which he refused to comment on.
Mediaite: You've been teaching at Columbia and consulting for nearly two years. What was it about this specific opportunity that made you want to come back in?
Wald: Because it is such an exciting opportunity, to step into the fast lane of the American conversation, the main superhighway of American conversation. Larry King has made this timeslot appointment television, we hope to make it mandatory television.
Mediaite: In an interview with Nikki Finke, Piers said "It's time to kick some ratings butt." How important will ratings be as you begin your time there?
Wald: Obviously ratings are important. But I think making the best television show you can is the ultimate goal. I believe if you build it they will come, and I know Piers does too.
Mediaite: How familiar are you with Piers? People mostly know him in America as a judge on America's Got Talent and winner of Celebrity Apprentice.
Wald: I know his history. I know he ran newspapers in England. I've seen Life Stories shows in England. And I've known him about a year. I think he's a great talent, he's going to be aggressive, spirited, opinionated without being partisan. He really wants to be a part of the conversation, and to win.
Mediaite: Your lead-in will be another new show, Parker Spitzer. Have you watched it? What do you think?
Wald: I have nothing to say about that at this time.
Mediaite: I heard an interview you did with Dylan Ratigan on his website, and you talked about how 60% of Apple sales are for products that didn't exist three years ago. You said, "If you're looking at the vast media landscape you have to ask, who is Steve Jobs for the media landscape? Who is going to figure out how to bring together an audience, leverage material we create on a daily basis and reach an entirely new group of people." Can you be that for CNN and the show?
Wald: That's a tall order for anybody. I think the point there is there's a vast group of people who don't watch any of these shows on cable in prime time. If Piers can tap into some of that that'll be terrific.
Mediaite: Your exit from CNBC in February 2009 came as a surprise to a lot of the media world. At the time you told Rachel Sklar, "They wanted me to stay, I wanted to stay—we just couldn't in the end work out a deal we could both be happy with." Is there anything you want to say about leaving CNBC, and what do you think of the direction the network's gone since you've left?
Wald: Let's be clear – CNBC has only increased their dominance since I left. They're the best at what they do, and I had an amazing five years there. They're terrific. I enjoyed being there and enjoy watching them now.
Mediaite: Do you see them as competition now on any level?
Wald: I don't see it as direct competition. Everybody is competing against everyone else in terms of an incredibly crowded media field, with cable, internet, broadcast TV. The challenge will be putting on the best program we can every night, and the rest will take of itself.
Mediaite: Last thing – there is already concern on Twitter about whether this means you will be less active. Can you help quell those fears?
Wald: I thought I answered that! (ed. note: Wald tweeted: "No chance" in regards to that possibility). My twitter speaks for itself.
—–
» Follow Steve Krakauer on Twitter
Have a tip we should know? tips@mediaite.com