Nothing To See Here! O'Donnell Says IRS And Benghazi Are NOT Scandals: 'IRS Agents Did Nothing Wrong'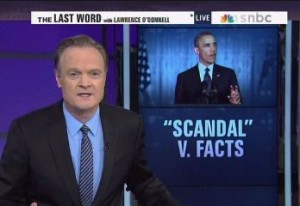 So much for conventional wisdom. Lawrence O'Donnell bucked the bipartisan condemnation of the IRS's actions on his show tonight, affirming that he believes the tax-collecting agency did nothing wrong in singling out Tea Party groups. O'Donnell diagnosed the media with "scandal fever," saying that in spite of such media focus on such big scandals, the truth, as O'Donnell put it, is that "there are no real scandals" involving the White House going on right now, no matter how bad Benghazi or the IRS targeting might make them look.
RELATED: Rachel Maddow: Will IRS Targeting Scandal Forever 'Neuter' Agency From Being Able To Do Its Job?
O'Donnell argued that while there was a "scandalous failure" that led to four Americans being killed in Benghazi, the scandal everyone is focusing on, the changing of the talking points after the fact, is not really a scandal. He said this is only of concern to "Republicans in Washington, and no one else anywhere in the world." He predicted the public release of 100 pages of e-mails will finally put this scandal to bed for good.
Which it might automatically do anyway, because everyone is now so focused on the IRS. O'Donnell played the video of Obama's brief statement today, and immediately rebutted Obama's point that everyone finds what the IRS did to be an outrage.
"Everybody but me. I do not believe what the IRS was reported to have been doing is an outrage. I believe that the IRS agents in this case did nothing wrong. Let me say it again, you won't hear it anywhere else: the IRS agents did nothing wrong. They were simply trying to enforce the law as the IRS has understood it since 1959."
O'Donnell maintained that the real problem is the IRS' weak definition of its own standards and not how its duties are being carried out.
Watch the video below, via MSNBC:

—–
Follow Josh Feldman on Twitter: @feldmaniac
Have a tip we should know? tips@mediaite.com
Josh Feldman - Senior Editor