Obama 2.0? Jake Tapper Suggests A Bipartisan Approach Has Benefited The White House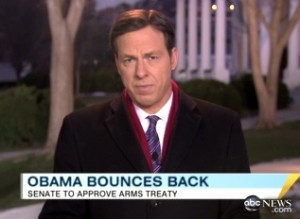 Yesterday Senator Lindsey Graham complained to Fox News radio that the GOP had effectively capitulated to the White House on a number of policies during the lame-duck session, that "wouldn't have passed in the new Congress." In fact, the last week and a half have been good to President Obama as he's seen the repeal of Don't Ask Don't Tell, Education reform, and the anticipated ratifying of the START treaty. This morning ABC News' Jake Tapper reports that this is all part of a new bipartisan approach from the White House that could spell more political victories to come.
Tapper writes in his Political Punch blog:
Gibbs said the message from the midterm elections "is that people want Washington to put aside the games that it normally plays and get things done. I think that what has been accomplished over the past few weeks demonstrates certainly that that's possible."

When he returns from Hawaii, the president intends to hold a bipartisan retreat at Camp David and White House sources tell ABC News the president feels there is potential for bipartisan compromise on:

• education reform — soon-to-be-Speaker John Boehner, R-Ohio, after all, chaired the House education committee that helped write the No Child Left Behind bill;
• spending cuts and reducing the deficit, which Republicans talk about wanting to tackle; and
• government reforms like eliminating earmarks and adding transparency — which Tea Party candidates campaigned on.

White House officials also believe the template of the tax compromise – a bill containing provisions each side likes, even if they deplore the ones the other side is offering – may work for job growth, say, with a bill offering infrastructure spending and targeted business tax cuts.
Watch Tapper's report on Good Morning America from earlier today:
Have a tip we should know? tips@mediaite.com
Colby Hall - Founding Editor