Obama Advisor Denies Campaign Is Connected To Harry Reid's Comments On Romney's Taxes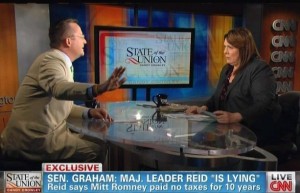 Candy Crowley grilled Obama campaign advisor Robert Gibbs earlier today over Harry Reid's claim that Mitt Romney has not paid taxes in ten years. Crowley asked Gibbs if the campaign was coordinating this with Reid, noting that a Democrat close to the campaign told her, "If Chicago wanted Reid to stop, he would stop, but Chicago doesn't want him [to stop]."
RELATED: Romney Takes On Harry Reid's Allegations: 'I Paid Taxes Every Year – A Lot Of Taxes'
Gibbs said that Romney has been keeping his returns secret to hide his money. Crowley asked Gibbs directly how Reid could seriously make such a charge without the evidence to back it up. Gibbs insisted that releasing tax returns has been a "time-honored tradition" that Romney's own father helped set the standard for. He brought up the over two decades of returns Romney provided to John McCain's campaign in 2008 when he was being vetted for the number two slot, wondering how Romney could only release two years when running for president.
Gibbs suggested Romney could go to Kinko's and just quickly print out copies of his earlier returns and hand them out to news organizations, arguing that the speculation would finally end and people would know for certain what Romney has and has not paid in his returns. When Crowley pressed Gibbs on Reid's comments having a connection to the Obama campaign, Gibbs remarked, "I don't think anybody has control of Harry Reid." Crowley suggested that he would stop if the campaign asked him to.
Gibbs found it odd that Romney would be so adamant in pushing back against Reid without providing the evidence to rebut him once and for all.
"I've never seen anybody jump through more hoops to say… that somebody's lying, but also to not put out a document that would prove what the real truth is."
Watch the video below, courtesy of CNN:
—–
Follow Josh Feldman on Twitter: @feldmaniac
Have a tip we should know? tips@mediaite.com
Josh Feldman - Senior Editor