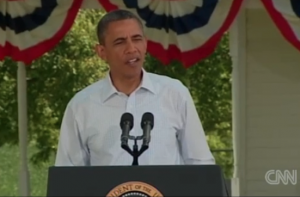 The story about Mitt Romney's dog Seamus riding on top of a car made its rounds through the media earlier this election cycle. Eventually reaching the end of its shelf life, the anecdote largely disappeared. Until today, when President Barack Obama alluded to the incident during a speech in Iowa.
In his remarks, Obama criticized Romney for opposing tax credits for renewable energy companies — and managed to link wind power to Romney's dog, while touting job creation in Iowa that resulted from such energy programs.
"Homegrown energy, like wind energy, is creating new jobs all across Iowa and all across the country — and guess what, Governor Romney said, let's end the tax credits for wind energy production, let's get rid of them," Obama said. "He said that new sources of energy like wind are imaginary. His running mate calls them a fad."
He went on to say:
"During a speech a few months ago Governor Romney even explained his new energy policy this way, I'm quoting here: 'You can't drive a car with a windmill on it.' That's what he said about wind power: 'You can't drive a car with a windmill on it.' I don't know if he's actually tried that. I know he's had other things on his car."
The Romney campaign disputed Obama's comments. Per CNN:
"Mitt Romney is a strong supporter of wind power and appreciates the industry's extraordinary technological progress and its important contributions to America's energy supply," Romney campaign spokesman Ryan Williams said.
Take a look at the remarks, via CNN:

(H/T CNN)
Have a tip we should know? tips@mediaite.com