Obama: 'I Am Not A Dictator,' Can't Just Use 'Jedi Mind Meld' To Force GOP Into Deal
Obama: Can't Just Use 'Jedi Mind Meld' To Force GOP Into Deal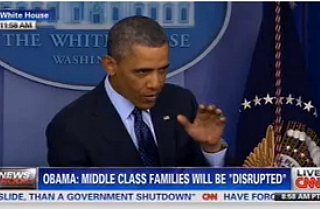 During his lengthy press conference this morning, President Obama joked that he is unable to use a "Jedi mind meld" to force the Republican House to go along with his plan for avoiding budget sequestration. He also said "I am not a dictator" when asked why he doesn't just force the GOP opposition into agreeing on a deal.
After the president challenged the press corps to suggest anything more he could do to prevent sequestration, CNN reporter Jessica Yellin joked that he could lock his opposition in a room and "refuse to let them leave the room until you have a deal."
"I am not a dictator, I'm the president," Obama replied. "If Mitch McConnell or John Boehner say, 'We need to go to catch a plane,' I can't have secret service block the doorway."
Yellin followed up whether the sequester negotiations are a "question of leadership."
"I know this has been some of the conventional wisdom floating around Washington, that somehow even though most people agree that I'm being reasonable, that most people agree I'm presenting a fair deal, the fact that they don't take it means that I should somehow, you know, do a Jedi mind meld with these folks and convince them to do what's right," he said.
For those not in the know, "Jedi mind meld" is a mix of the "Jedi mind tricks" from Star Wars and the "Vulcan mind meld" from Star Trek. Mixing the two popular series is a big sci-fi geek no-no, and so, naturally, the references set off a social media firestorm, sending #jedimindmeld to the top of Twitter's national trending list.
"We have a constitutional system of government. The Speaker of the House and leader of the Senate and all those folks have responsibilities," Obama continued to explain his limitations. "What I can do is I can make the best possible case for why we need to do the right thing. I can speak to the American people about the consequences of the decisions that Congress is making or the lack of decision making by Congress. But ultimately it's a choice they make."
Watch below, via CNN:
— —
>> Follow Andrew Kirell (@AndrewKirell) on Twitter
Have a tip we should know? tips@mediaite.com