Obama: No 'Training' Or 'Awareness Programs' For Military Sex Offenders, 'There Will Be Accountability'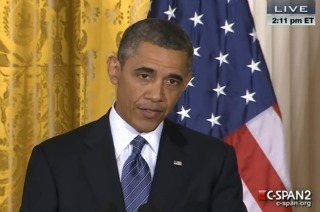 On Tuesday, President Barack Obama addressed reports that incidents of rape have increased dramatically in the United States military over the course of his first term in office. Obama said that he was aware of the issue and had already spoke to Defense Department officials about it. The president added that he hopes service personnel found guilty of assault would be "prosecuted, stripped of their positions, court marshaled, fired, dishonorably discharged." "It's not acceptable," Obama said.

"The Pentagon said today that there may be as many as 70 sexual assaults a day in the military, up by 35 percent during your term in office," said Christi Parsons, White House correspondent for the Tribune newspapers. "Can you speak to the culture in the US military that may be at play here and talk about your response to that and what you can do going forward to improve things?"
"Let's start with the principle that sexual assault is an outrage. It is a crime. That's true for society at large and, if it's happening inside our military, than anyone who carries it out is betraying the uniform that they're wearing," Obama began. "They may consider themselves patriots but, when you engage in this kind of behavior, that's not patriotic. It's a crime."
"This is not a new phenomenon," Obama continued. "Up and down the chain, we are seeing a process, a system, of accountability and transparency so that we can root this out completely."
"We're going to have to not just step up our game, we're going to have to exponentially step up our game to go at this thing hard," Obama added.
The president said to servicemen and women who have been victims of sexual assault that "I've got their backs," and "there will be accountability." He said that rape dishonors the members of the armed services who are guilty of sexual assault.
"I have no tolerance for this," Obama said. "And I expect consequences, so I don't want just more speeches, or awareness programs, or training, but ultimately folks look the other way."
Watch the clip below via C-SPAN 2:
> >Follow Noah Rothman (@NoahCRothman) on Twitter
Have a tip we should know? tips@mediaite.com