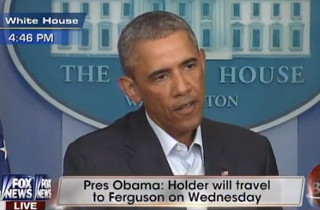 While Barack Obama may have his own personal feelings towards the death of Michael Brown and the deterioration of order in Ferguson, Mo., he took pains during his press conference today to stress that he is, first and foremost, the President of the United States, and that the investigation in Brown's death is still in progress.
"I have to be very careful about not prejudging events before these investigations are completed, because these are issues of local jurisdiction," he said during a Q&A during a press conference, in which he announced that he was sending Attorney General Eric Holder to Ferguson on Wednesday. "The [Department of Justice] works for me, and when they're conducting an investigation, I have to make sure I don't look like I'm putting my thumb on the scales one way or the other."
Speaking generally, though, he said that as President, he could address the root causes of this violence:
Part of the ongoing challenge of perfecting our union has involved dealing w communities that feel left behind; who, as a consequence of tragic histories, often find themselves isolated, often find themselves without hope, without economic prospects. You have young men of color who are more likely to end up in jail, or the criminal justice system, than they are to end up in a good job or college.

Part of my job that I can do without any potential conflicts is to get at those root causes. Now, that's a big project. We've been trying to carry it out for a couple of centuries, and we've made a lot of progress, but we haven't made enough progress.
At the same time, "there are young black men that commit crime and we can argue about why that happens," he acknowledged. "But if they commit a crime, they need to be prosecuted, because every community has an interest in public safety. "
Watch below, via Fox:
[Image via screenshot]
—
>> Follow Tina Nguyen (@Tina_Nguyen) on Twitter
Have a tip we should know? tips@mediaite.com